CALGARY — Enbridge Inc. (TSX:ENB) plans to buy Houston-based Spectra Energy Corp. in an all-stock friendly deal worth C$37 billion that they say would create the largest energy infrastructure company in North America.
The acquisition would extend the Calgary-based firm's already growing reach throughout the continent, Enbridge CEO Al Monaco said Tuesday.
"This transaction is transformational for both companies and results in unmatched scale, diversity and financial flexibility with multiple platforms for organic growth,'' Monaco told analysts in a conference call after announcing the deal.
Monaco said the deal would add Spectra Energy's strength in natural gas to Enbridge's strong position in oil and other liquids infrastructure, although both companies are already active in various segments of the energy infrastructure industry.
The enlarged company would be headquartered in Calgary and Monaco would remain as president and CEO, while Spectra Energy CEO Greg Ebel would become non-executive chairman of Enbridge's board of directors.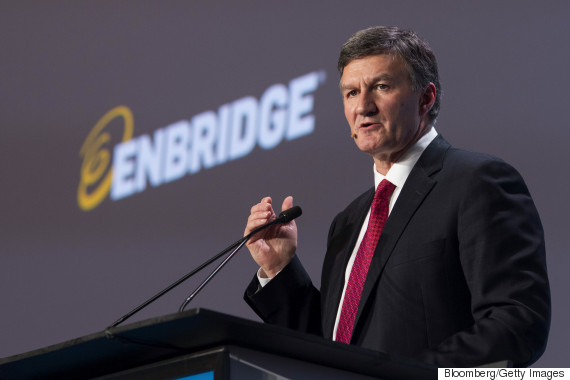 Al Monaco, president and chief executive officer of Enbridge Inc., speaks in Houston, Tx., on April 22, 2015. (Photo: F. Carter Smith/Bloomberg via Getty Images)
"Along with Al, I expect to be one of the largest — if not the largest — individual shareholder in Enbridge,'' Ebel said in the same conference call. "So our alignment with investors is absolutely clear.''
Under terms of the deal, Spectra Energy shareholders would receive 0.984 shares of the combined company for each share of Spectra Energy common stock they own. Based on the closing price of Enbridge common shares on Friday, that translates to US$40.33 per Spectra Energy share, representing about a 11.5 per cent premium to Spectra Energy's closing stock price Friday.
Shared assets worth $165 billion
The combined company's assets would be worth about C$165 billion, both firms said.
Monaco said the companies will need to see what divestitures may be required by competition authorities, although he doesn't see much overlap between Spectra Energy's natural gas infrastructure business and Enbridge's oil and liquids operations.
Still, Enbridge is expected to sell approximately $2 billion of non-core assets over the next year.
"I think at this point we're not identifying anything specifically but we are working on a couple things that would make up that $2 billion that we noted,'' Monaco said.
Main businesses still based in Canada
The natural gas infrastructure business would be based in Houston and the liquids business would be based in Edmonton, both companies said. The natural gas distribution business would remain based in Ontario.
The deal is expected to close in the first quarter of 2017, pending shareholder and regulatory approvals.
Spectra Energy shares closed Friday at US$36.15 on the New York Stock Exchange before the Labour Day holiday weekend. The stock was up about 12 per cent in early trading Tuesday after the conference call. Enbridge shares were at C$55.09. up about 3.5 per cent, on the Toronto Stock Exchange.
Also on HuffPost
Enbridge Northern Gateway Pipeline Protest At MP Offices