Systemic gendered barriers sure gets 'em while they're young.
Mother of five Shoshanna Keats-Jaskoll took issue with the latest cover of Girls' Life, a magazine targeted at girls ages five to 10.
At first glance, there was nothing out of the ordinary about the cover. Beaming Disney actress Olivia Holt stood front-and-centre as headlines about friendship, makeup, fashion, and hairstyles surrounded her.
For Keats-Jaskoll, that was exactly the problem. In a Facebook post, she compared the Girls' Life cover to the cover of a Boys' Life magazine beside it.
The two covers for children couldn't be any more different. While Girls' Life emphasized beauty and makeup, the cover of Boys' Life's was crammed with career options, with images of an airplane and a firefighter's helmet.
"Your cover has a lovely young lady with a full face of makeup and you invite your readers to 'steal her secrets'," she writes.
"The BOYS' LIFE cover has in bold letters: EXPLORE YOUR FUTURE surrounded by all kinds of awesome gear for different professions- doctor, explorer, pilot ... could there possibly be two more divergent messages?"
Keats-Jaskoll criticized the magazine directly, writing an open letter on Facebook addressed to Girls' Life masthead, the women behind the brand: publisher and founding editor Karen Bokram, creative director Chun Kim, content director Kelsey Haywood, national advertising sales director Brooke Winters, and consumer manager Paulette Paxton.
"You are women. Working, professional women. Is this the message you are proud of?" she asks the editors. "Is this why you became publishers, writers, graphic designers? To tell girls they are the sum of their fashion, makeup and hair?"
As a mother raising two girls and three boys, Keats-Jaskoll couldn't believe the narrow options her daughters had compared to her sons.
"I know that you are only one of many many magazines that contribute to this culture but I believe you can be part of changing all that is wrong here," she writes to Girls' Life.
Others on social media noticed the gendered discrepancy.
Matt Frye, a father of three, was the original poster of the magazine comparison photo. Upon seeing the covers, he vowed to raise his daughters to see the world differently.
"A sad microcosm of what our society says being a girl vs being a boy means. With three girls to raise, this breaks my heart," Frye wrote in a Facebook post. "I'll fight like hell for my girls to not exist in this reality."
Even Boys' Life magazine weighed in on the conversation, with a tweet expressing that they were nothing like Girls' Life.
Although similarly named, Boys' Life and Girls' Life have different owners.
In subsequent tweets, Boys' Life, which is published by the Boy Scouts of America, emphasized its co-ed programs that served boys and girls.
Girls' Life magazine has not responded to Keats-Jaskoll's open letter, but Bokram defended the magazine from online outrage in an interview with The Stir.
"I don't ever want to apologize for the fact that we have lip gloss," Bokram said, adding that 85 per cent of Girls' Life sales were from subscriptions bought by parents. "I'm not out there to determine how you should raise a child. Ultimately it's for parents to decide."
When it comes to better representation, parents will need to vote with their wallets if they want children's magazines that doesn't play into cliche gendered interests.
Alternative magazines could be the answer to challenging gender roles.
There's been plenty of positive buzz about Kazoo, a new feminist girls' magazine. Frustrated with the lack of empowering media for her five-year-old daughter, Erin Bried created Kazoo as an outlet that would encourage young girls' love for science experiments and technology.
Rookie Magazine, founded by teenager Tavi Gevinson, publishes content by and for teenage girls online and in print. It's been commended for its frankness with topics such as sexual violence, mental health, and diversity.
Another option is Shameless, a Toronto-based magazine teenage girls and trans youth which encourages critical thinking, anti-oppressive perspectives, and a DIY punk approach to life.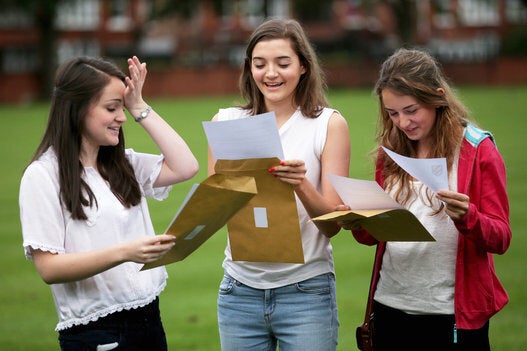 Photos Of Girls Going To School Around The World