TORONTO — Hudson's Bay Company reported a net loss of $142 million in its second-quarter 2016 financial results compared to net earnings of $59 million for the same period last year.
But the Toronto-based retailer also saw consolidated retail sales rise to $3.25 billion for the quarter ending July 30, an increase of 59.6 per cent. That was primarily the result of the addition of HBC Europe and online shopping business Gilt, as well as growth in comparable sales of 1.9 per cent, the company said.
Still, on a constant currency basis Hudson's Bay said total comparable sales declined by 1.3 per cent. While comparable sales grew 1.1 per cent at their Lord & Taylor, Hudson's Bay and Home Outfitter banners, those were offset by declines of 0.9 per cent at HBC Europe, 11.4 per cent at HBC Off Price and 1.3 per cent at Saks Fifth Avenue.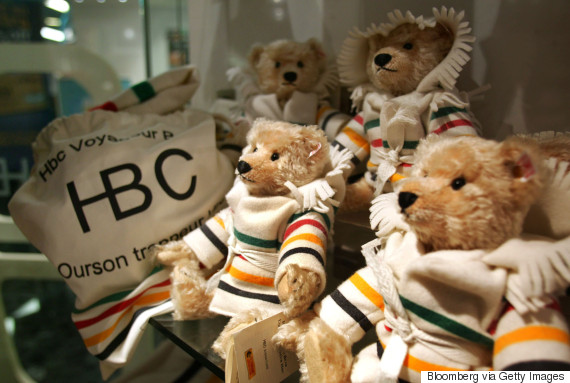 Hudson's Bay Company signature teddy bears wearing replicas of duffel coats made from traditional Hudson's Bay blankets are seen at "The Bay" store which is attached to HBC's company head offices in Toronto on Aug. 13, 2004. (Bloomberg via Getty Images)
HBC CEO Jerry Storch said despite uncertainty in the retail industry, the company remains focused on executing on its long-term strategy for profitable growth.
The company said it's bringing industry-leading robotic technology to Canada, which it expects will reduce digital order processing time and generate significant savings.
Also on HuffPost
Celebrities Who Love The Hudson's Bay Company