TORONTO — Higher oil prices and a weak U.S. dollar helped drive up the loonie Tuesday as North American stock markets racked up some small gains.
The Canadian dollar added on 0.86 of a cent at 77.84 cents US, as the greenback tumbled amid diminished hopes that the U.S. Federal Reserve will hike interest rates later this month.
Expectations that the U.S. central bank will raise rates at its next meeting later this month faded after the Institute for Supply Management reported that U.S. service companies grew at a far slower pace in August than they had in July.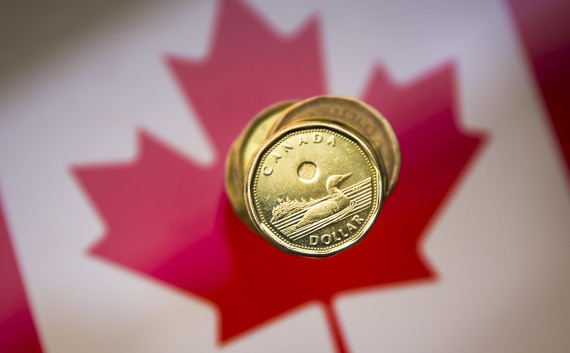 A Canadian dollar coin, commonly known as the "Loonie", is pictured in this illustration picture taken in Toronto on Jan. 23, 2015. (Photo: Mark Blinch/Reuters)
The Institute for Supply Management said Tuesday that its services index fell to 51.4 last month from 55.5 in July. A reading above 50 signals growth, but the August result was the lowest since February 2010.
The data point followed a lower-than-expected U.S. jobs report on Friday that showed employers added 151,000 jobs in August and the unemployment rate remained static at 4.9 per cent for a third month in a row. Economists were expecting 182,500 new jobs last month and for the unemployment rate to fall by 0.1 per cent.
Laura Lau, a senior portfolio manager with the Brompton Group, says these data points are enough to scare the Fed away from rising rates at its meeting later this month.
"The markets are still pricing in the possibility of a September hike, but it's quite low,'' she said.
"I don't think a September hike was ever really in the cards. December makes more sense anyway because that's after the U.S. election.''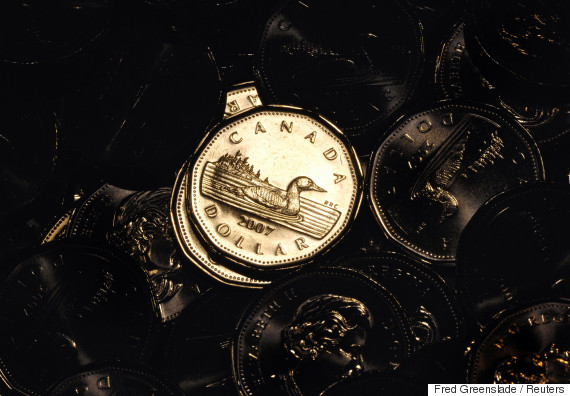 Newly-pressed Canadian one dollar coins, also know as loonies, at the Royal Canadian Mint in Winnipeg on Nov. 14, 2007. (Photo: Fred Greenslade/Reuters)
Fed officials have been hinting that it wants to raise rates sooner rather than later, but only if the economy can support such a move.
On Wall Street, the Dow Jones industrial average climbed 46.16 points at 18,538.12, while the broader S&P 500 jumped 6.5 points to 2,186.48. The Nasdaq composite set an all-time record after rising 26.01 points to 5,275.91.
In Toronto, the S&P/TSX composite index was 17.32 points higher at 14,813.02, as the gold, materials sand metals sectors registered large gains that were partially offset by losses from the industrials and consumer staples sectors.
"I don't think a September hike was ever really in the cards."
Meanwhile, the October crude oil contract gained 39 cents at US$44.83 per barrel after Iran's oil minister told state-run TV that his country would support any decision by OPEC to stabilize the oil market.
In other commodities, the December gold contract headed up $27.30 to US$1,354 an ounce, as December copper contracts were up a penny at US$2.09 per pound and October natural gas contract dipped eight cents to US$2.72 per mmBTU.
Also on HuffPost
Canadian Dollar Through History