The 2016 Paralympics, starting in Rio on Wednesday, includes canoe-kayak and triathlon for the first time among the 22 sports detailed here by AFP Sport:
A staple on the Paralympic menu since the very first edition in 1960. Individual and team competitions with athletes divided into wheelchair users and standing athletes. Archers aim at a target with a diameter of 122 cm from a distance of either 50 metres or 70 metres. The United States have won the most golds. The Czech Republic's David Drahoninsky won gold in Beijing and silver in London.
One of the original eight sports to figure in the inaugural 1960 Paralympics in Rome, and the most popular, with 1,100 athletes competing in 177 track, field and road events in Rio with the only disciplines not covered the pole vault, hammer and hurdles. Visually, intellectually and physically impaired athletes compete. Athletes compete either standing or using a wheelchair, with or without prosthesis. Visually impaired Jason Smith, Ireland's answer to Usain Bolt, aims to repeat his 100m and 200m success at Beijing and London, while Felipe Gomes, from a notorious Rio favela, will have home support behind him.
Of Greco-Roman origin, Boccia is one of the rare sports not to have an Olympic equivalent. Comparable to British bowls or French petanque, Boccia is played in a wheelchair on a 12.5 x 6m surface. A game of strategy and accuracy originally designed for people with cerebral palsy, it is now open to all athletes with motor skills impairments. Players must throw or roll six coloured balls to get as close as possible to a white target ball, known as the 'jack'. The player, pair or team with the most balls near the jack is the winner. There are seven medal events — all mixed gender — with four different classes. Brazil's Dirceu Pinto is out to add to his four Paralympic medal haul.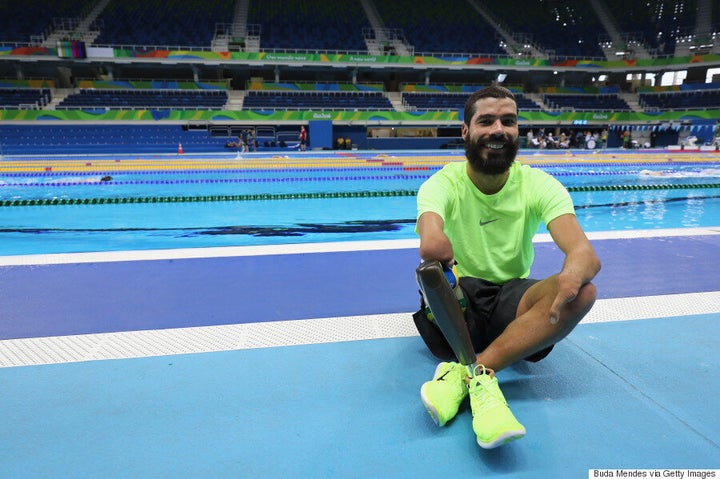 Brazil's Paralympic swimmer Daniel Dias poses for a photographer during a training session at the Aquatics Stadium on Sept. 5, 2016. in Rio de Janeiro, Brazil. (Photo by Buda Mendes/Getty Images)
One of two disciplines making its debut in Rio, para-canoe events will be competed in line over 200 metres in specially adapted kayaks. Three categories of athletes: those with no use of their legs, some use of their legs and body, and partial use of their legs. There are six medal events — three each for men and women — at the Lagoa Stadium on the Rodrigo de Freitas lagoon, next to Copacabana Beach.
Races on both the road and track for amputees, those with a physical handicap, visually impaired and blind athletes. The sprint, individual pursuit, and both individual and team time-trials will be contested. Former Formula One driver Alex Zinardi, who lost his legs in an accident, won two golds at London.
Great Britain's Lee Pearson is peerless in this Paralympic sport where men and women compete equally. He won three golds at each of Sydney, Athens and Beijing, but 'only' one in 2012. The only discipline is dressage, open to physically and visually impaired riders in four categories. Equestrianism made its Paralympic debut at Atlanta in 1996. The only difference with the Olympic Games is that riders can use 'compensating aids' such as adapted saddles for amputees, or 'callers' for visually impaired competitors.
Football 5-a-side is for athletes with visual impairment. Eight men's teams play each other and to ensure fairness all competitors, apart from the goalkeeper, wear eyeshades, with the ball making a sound which helps players locate it. The rules are more or less the same as football but the pitch is smaller and the off-side rule does not exist. Brazil are the masters of the sport, winning every title since it was introduced in 2004, and will be inspired by the Pele of Paralympic football Jefinho.
The sport is for those affected by cerebral palsy. Like the five-a-side game, it uses a smaller pitch than the 11-a-side game with matches made up of two 30-minute halves. There is no offside rule and throw-ins are taken with just one hand. Russia are the defending champions.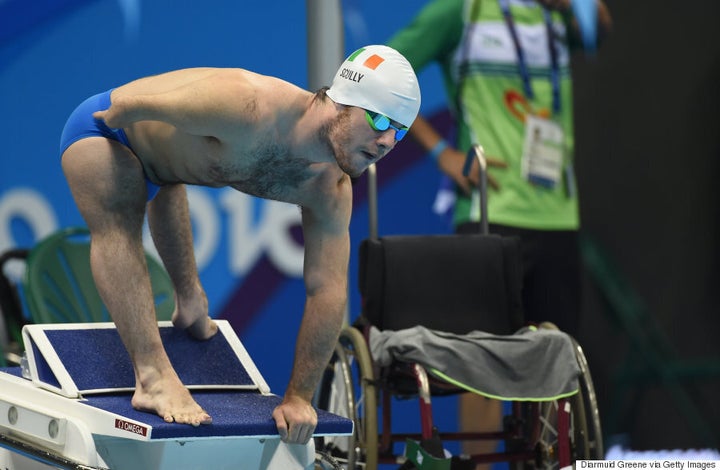 James Scully of Ireland prepares to enter the pool during a swimming training session at the Olympic Aquatic Stadium ahead of the 2016 Paralympic Games in Rio de Janeiro, Brazil. (Photo By Diarmuid Greene/Sportsfile via Getty Images)
A sport for visually-impaired athletes, goalball is not unlike handball. The aim is to throw the ball, equipped with a bell inside, into the opposing team's goal. A team consists of three players, all of whom are blindfolded. The Erkki Miinala-inspired Finland routed Brazil in 2012.
Open only to visually impaired athletes, judo has several distinctive differences to the Olympics. The mats have different textures to help judoka identify where they are, while they begin with their hands already on each other's jackets. Yet they must still fight for five minutes. Mexico's Eduardo Ávila Sánchez won gold in 2008 and bronze in London.
A means of post-war rehabilitation, powerlifting is one of the core sports for people with physical disabilities. Open to both men and women, with 10 different weight categories, athletes lie on their back strapped to a bench as they perform a bench press.
Rowing first made its appearance in 2008. Four races over 1000m split into three categories: single sculls for men and women with use of shoulders and arms, mixed double sculls for those with use of their trunk and arms, and coxed fours for rowers with functional use of their legs, trunks and arms, including up to two visually impaired athletes.
There are three categories of craft — a solo 4.6m single keel dual sail Norlin for men and women, a 5.8m mixed doubles Skud 18 and a 7m trio Sonar A class, for either sex. As yet there are no events for the visually impaired. Star sailor Damien Seguin of France was the gold medalist in the solo craft at Athens and Beijing.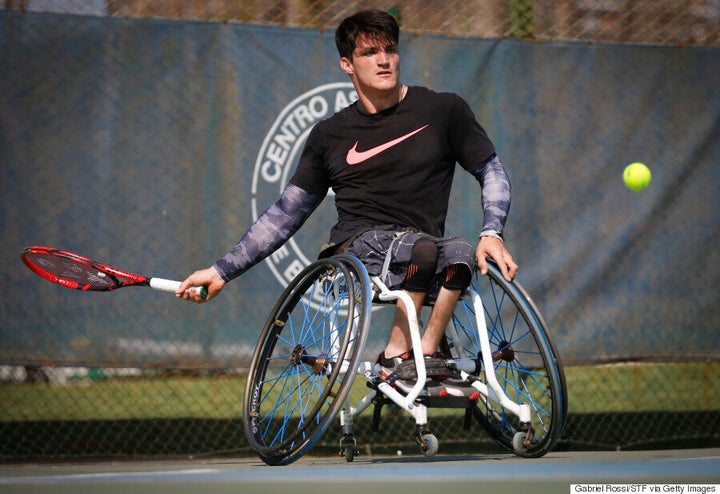 Tennis player Gustavo Fernandez of Argentina during an exclusive portrait session at Centro Asturiano de Buenos Aires on August 26, 2016 in Vicente Lopez, Argentina. (Photo by Gabriel Rossi/LatinContent/Getty Images)
Competitors are placed at a distance of either 10, 25 or 50 metres, either standing, sitting or prone. Divided into three categories, shooting uses a classification system which enables athletes from different impairment groups with the same level of functional ability to compete together. SH1 is for pistol and rifle competitors that do not require a shooting stand, while SH2 is for rifle competitors who are not able to support the weight of the firearm with their arms and therefore require a spring mounted stand to shoot. Sweden and South Korea are the most successful nations in the history of paralympic shooting.
Featuring Brazil's most successful 10-gold Paralympic champion Daniel Dies. Accessible to even the most severely handicapped, swimming is one of the headline events. Competitors are grouped into 14 categories. Visually-impaired swimmers rely on the aid of a tapper, who uses a cushioned pole to indicate when they are nearing the wall.
One of the traditional Paralympic events, players are either in wheelchairs or standing, in singles, doubles or in teams. Para table tennis follows the laws set by the International Table Tennis Federation (ITTF) with only slight modifications to the serving laws for athletes competing in wheelchairs. No surprise that China is the most successful nation
The "Paratriathlon" is making its Games bow, it starts with a 750m swim, followed by a 20km bike ride and culminates with a 5km run. Men and women compete in the same race although the athletes are divided into three categories. Star athlete Lauren Steadman of the U.K. won the 2015 Rio Paratriathlon.
Originally developed by American WWII veterans, the game has a basket at 10ft, or just over 3 metres. Shaun Norris of 'Australia Rollers' debuted at Athens, the shooting guard won a gold in 2008 and silver at London.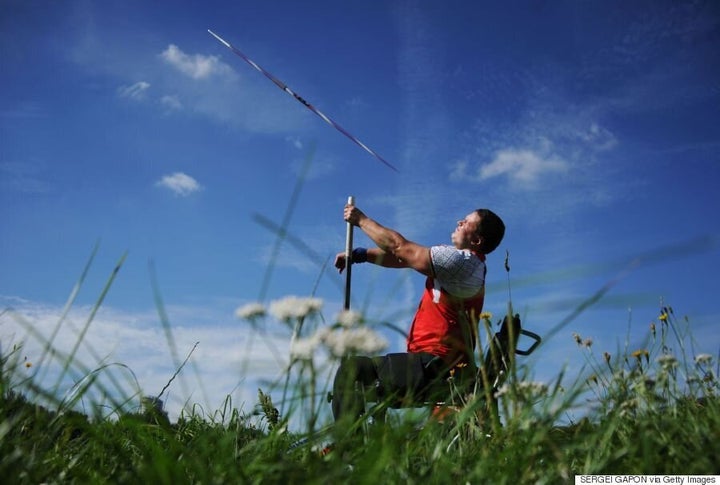 Belarus' Paralympic athlete Alexander Triput throws a javelin during a training session on August 20, 2016 in Minsk. Triput won his first Paralympic medals as a visually impaired athlete, but has now battled back from an accident that severed his spinal column to compete at Rio in a wheelchair. (SERGEI GAPON/AFP/Getty Images)
2012 champion Jovane Guissone, who lost the use of his legs after being shot in a robbery, is one of Brazil's big hopes for gold in this discipline open to athletes with motor impairments. Competitors' wheelchairs are firmly fixed to a metal frame in the competition area, known as the 'piste.' As in the Olympics, events are divided across three weapons — epee, foil and sabre. Part of the Paralympic Games since Rome 1960, wheelchair fencing will have 14 medal events for individuals and teams in Rio. France and Italy have traditionally been the most successful nations, but China led the medals table in 2008 and 2012.
A combination of rugby, basketball and ice hockey, this is the only collective sport in the Games for quadraplegics. An aggressive game, it involves four-person teams trying to cross into the opposition goal area with ball in hand. Australia boast Ryley Batt, considered the best in the world.
This popular sport was created in the 1980s. The rules are the same as for able-bodied athletes except the ball is allowed to bounce twice. There are six events in Rio: women's singles, men's singles, women's doubles, men's doubles, quad singles and quad doubles. Japan's Shing Kunieda aims for a third straight title.
Two teams of six face off on the two sides of the court divided by a lowish net (1.05m for women, 1.15m for men) and the players are not allowed to stand up. Star player Katie Holloway of the USA is a two-time silver medallist. Safet Alibasic inspired Bosnia and Herzegovina to gold in London.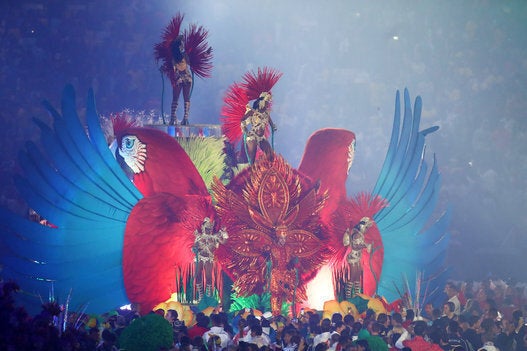 Mesmerizing Photos From Rio Olympics 2016