This is why they call soccer the beautiful game.
Language barriers didn't stop Calgary police officers and Syrian refugees from facing off in a friendly soccer match on Monday.
"It is kind of a welcome to Canada and a discussion of how, in this case, what we have in common is a love of the game," Sgt. Graeme Smiley told CBC News.
The Syrian Soccer Sons team is made up of boys aged 10 to 19 who practice a few times each week.
"... what we have in common is a love of the game."
Some of the players were sitting in refugee camps just a few months ago.
"This is not a field of soccer," said Sam Nammoura of the Calgary Syrian Refugee Support Group to Global News. "This is a field of dreams."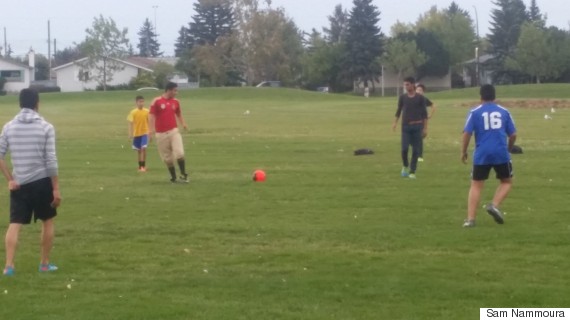 Members of the Syrian Soccer Sons practice in advance of Monday's soccer game in Calgary. (Photo: Sam Nammoura)
The game was played ahead of the North American Police Soccer Tournament, taking place from Sept. 7 to 9 in Calgary. The Calgary Police Service Diversity Resource Team came up with the idea for the practice match as a way to engage the community.
"Sport has an incredible ability to bring people together," Const. Kelly Mergen said in a release. "It's a place people from all communities can find common ground."
The game ended in a 4-4 tie, Metro News reported.
Watch a video of the game above.
Also on HuffPost
Great Things Canadians Have Done So Far For Syrian Refugees