A picture can say a thousand words.
That truth is evident in a pair of images of a facility that Guinness World Records called the world's largest trading floor.
Liz Ann Sonders, chief investment strategist at Charles Schwab and Co., tweeted the following photos of the trading floor at UBS' facility in Stamford, Conn. on Sunday.
Living in the next CT town, sad to see what's become of once-largest trading floor in world @UBS @biancoresearch pic.twitter.com/XKYkBO8Q6C

— Liz Ann Sonders (@LizAnnSonders) September 4, 2016
The Switzerland-based bank set up the two-football-fields-sized floor before the financial crisis hit in 2008, Business Insider reported.
Since then, UBS has downsized its staff, moved most of its traders to New York, and now it plans on vacating the facility.
The bank established the trading floor in an effort to show its Wall Street clout, but after the recession, it came to be occupied mostly by back-office, tech and legal staff, The Wall Street Journal reported in 2014.
It had space for as many as 1,400 traders, but UBS didn't tell the newspaper how many were working there at the time.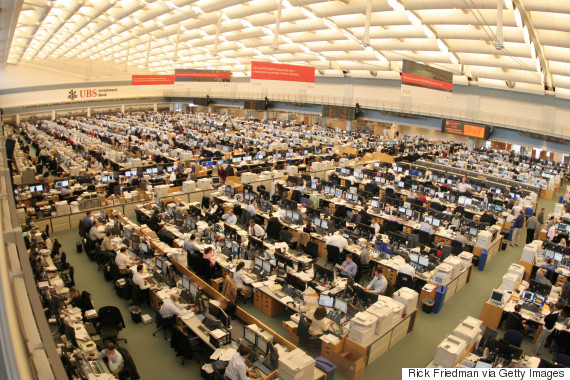 The UBS trading floor in Stamford, Conn., in February 2005. (Photo: Rick Friedman/Corbis via Getty Images)
UBS has been trying to lease the building since 2014, and has moved many employees into a Royal Bank of Scotland facility across the road, The Stamford Advocate reported in February.
So far, it hasn't managed to find any tenants. The building also has a $156-million mortgage that is being handled by CWCapital Asset Management, which specializes in troubled loans.
But UBS isn't the only firm that has been downsizing in the years since the financial crisis.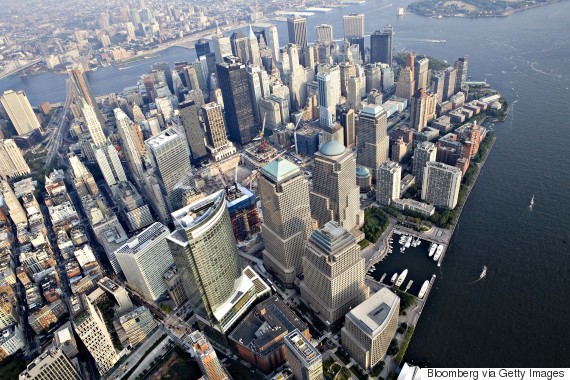 The headquarters of The Goldman Sachs Group Inc., bottom left, stands adjacent to the World Financial Center in this aerial photograph taken over New York, U.S., on July 7, 2010. (Photo: Daniel Acker/Bloomberg via Getty Images)
Slumping activity has forced even Goldman Sachs to cut back its trading operation at its tower near New York's Hudson River, The New York Times reported.
Its traders used to occupy three floors in the building; now they're present in only two.
The trend has been blamed on declining growth in the financial industry, as well as technology that has essentially made human traders redundant.
Sign of the times.
Also on HuffPost:
The Financial Crisis On Film