It was meant to be a day of celebration but instead, it ended in heartbreak.
Just minutes after dancing with his daughter, bride Michele Howard, for the traditional father-daughter dance at her Costa Rica wedding, Tim Buchanan, of South Carolina, suffered a fatal heart attack
His wife, Jeni Buchanan, took to Facebook on Sunday to share the sad news.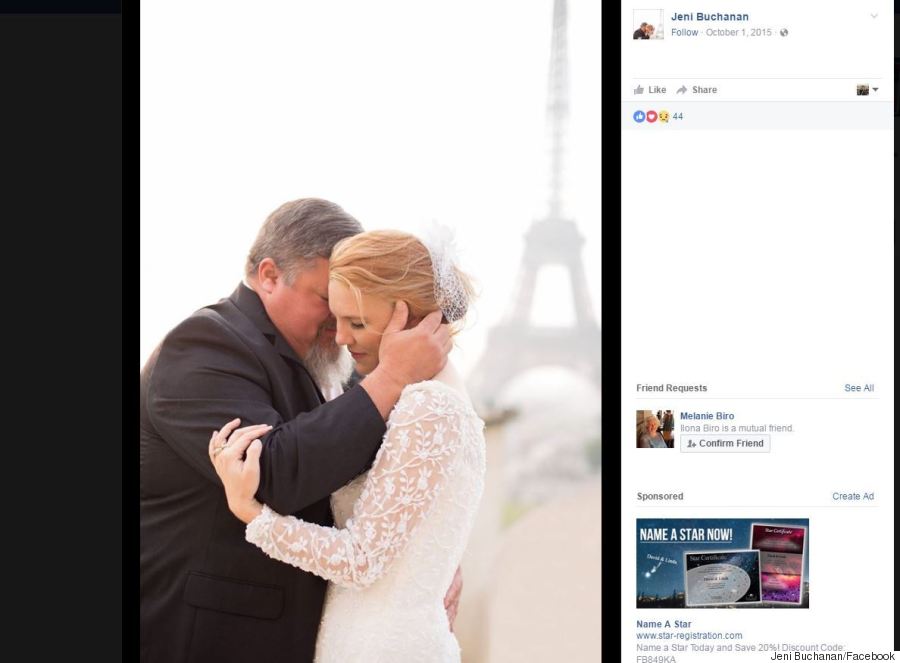 Tim Buchanan and daughter Michele Howard on her wedding day. (Jeni Buchanan/Facebook)
"You never know when the last time will be the last time!" she wrote. "Tim came into my life at a time when I was broken to the core and held me up and built me into a strong person. Over the years we raised four amazing children, cared for my little brothers when they needed us the most and had even the honor of a beautiful grandchild."
"He was the most beautiful soul I have ever known and I will never be the same without him. I know he loved me and our family," she continued.
The Facebook photo she shared shows the couple on the day of their daughter's wedding, giving each other a loving kiss.
"I am so very grateful for this image of us that our dear friends Kelly Rae Stewart and her husband snuck during our daughter's wedding yesterday," Jeni wrote. "Little did I know just a few hours later we would lose him."
Tim was just 54 years old when he died, but he was very much loved, say family members.
Eldest son, Ben, told Us Weekly that he and his siblings talked to their father every day. "I could call him for any problem and he knew what to do," Ben said. "He calmed us all down. He helped us through the hard times. He was the guy."
On Tuesday, Jeni posted another message for her family and friends on Facebook, thanking them for their love and support.
"The outpouring of love and support from everyone is greatly appreciated but also overwhelming as we are trying to grieve," she wrote.
"Family was the most important thing to him," she added, "to the point that he ignored his body telling him something was wrong. He should have gone to the doctor, but he was afraid that he wouldn't be able to attend our daughter's wedding. Every one of us wish he was still here and hadn't ignored the signs that something was wrong.
If there is anything you can do for us, it is to take care of yourself and your loved ones. If we can save just one life with our tragedy, then he can be a hero one more time."
A GoFundMe page has been set up to help the family cover the cost of the funeral and other expenses. As of press time, it has reached nearly $17K of the $20K goal.
Also on HuffPost
49 Of The Sweetest Wedding Photos