Former Liberal minister Hunter Tootoo says the prime minister offered him a hug and supportive words after learning of his alcohol addiction and "inappropriate" workplace relationship earlier this year.
On Wednesday, Tootoo told Peter Mansbridge of CBC's The National that his confession — which happened during a private meeting in May — caught Justin Trudeau off guard.
"I surprised him, I surprised everyone," the Nunavut MP, 52, told the network. "I knew I had to go in there and let him know my decision and what happened. I was going in knowing that I had let him down."
Tootoo added that Trudeau didn't try to stop the him from leaving the Liberal caucus, along with his position as the fisheries minister, but did encourage him to seek help.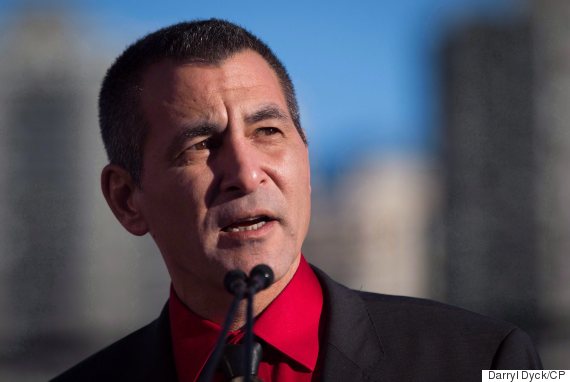 Hunter Tootoo speaks at the Kitsilano Coast Guard facility in Vancouver, B.C. in December 2015. (Photo: Darryl Dyck/CP)
"He gave me a hug. He's an amazing individual."
When Tootoo initially stepped down in the spring, he attributed his departure to substance abuse.
"This was his own choice, after a very difficult situation. We will have nothing else to say on this matter," Trudeau told reporters following the resignation.
The brief comments were a stark contrast to the support the prime minister offered Liberal MP Seamus O'Regan in January, when the rookie politician checked into rehab.
Rumours that there was more to Tootoo's departure began swirling around shortly thereafter.
"He gave me a hug. He's an amazing individual." — Tootoo
Tootoo returned to work as an independent MP in July. Soon after, he revealed that a "consensual but inappropriate" relationship with an unidentified person in the workplace had also contributed to his resignation from caucus.
"I am ashamed and I apologize to all involved, especially the people of Nunavut. I am deeply sorry," he said during in a news conference in August.
Tootoo acknowledged that the prime minister had been informed of the relationship, but said Trudeau had kept it secret in order to protect the staffer's identity.
The Prime Minister's Office, once again, was largely mum on the issue. In a statement issued after Tootoo's second admission, it said only that the MP "took full and sole responsibility for his inappropriate workplace conduct."
Also on HuffPost
Meet Canada's Indigenous MPs