RIO DE JANEIRO — David Eng made sure Canada's entrance to the Paralympic opening ceremonies was a memorable one.
The Canadian flag-bearer, a two-time gold medallist in wheelchair basketball, knelt on one knee when he entered Maracana Stadium and gave a fierce wave of the Maple Leaf.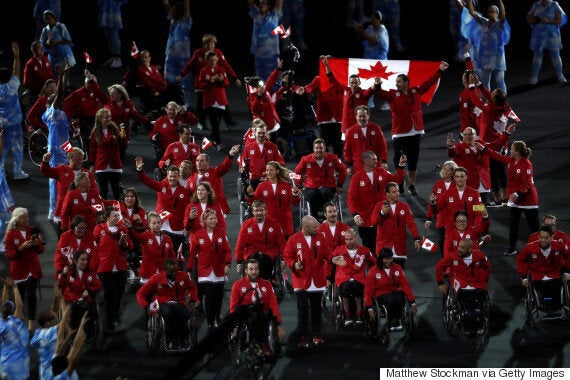 Team Canada enters the stadium during the Opening Ceremony of the Rio 2016 Paralympic Games, on Sept. 7 in Rio de Janeiro, Brazil. (Photo: Matthew Stockman/Getty Images)
"This is a moment I will cherish forever," Eng said. "I'm feeling so blessed. It was an even greater feeling to have my wheelchair basketball teammates enter the stadium right behind me and to share this precious moment with them. I love them so much."
The 39-year-old Eng, who helped Canada to gold in 2004 in Athens and again eight years later in London, was born with one leg longer than the other and isn't restricted to a wheelchair. He also won a silver medal in 2008 in Beijing.
"This is a moment I will cherish forever."
Like their Olympic counterparts that marched into Maracana a month ago, the Canadians were dressed smartly in red blazers, the backs emblazoned with giant Maple Leafs. The team received loud applause from the Brazilian fans.
Canada has 162 athletes competing in 19 sports in Rio, and is gunning for a top-16 finish in the overall medals standings.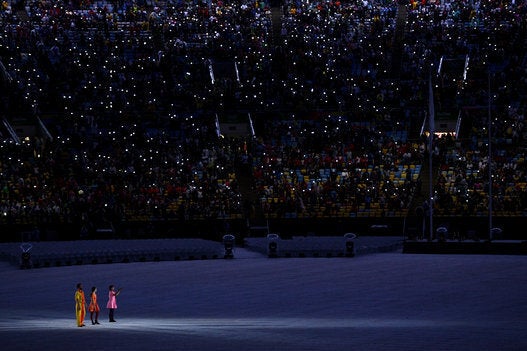 Rio Olympics 2016 Closing Ceremony