So how's that headphone jack-less iPhone working out for Apple?
Not bad if you ask the Bank of Montreal. Not great if you ask Wall Street. Even worse if you ask people to shell out for its new wireless headphones.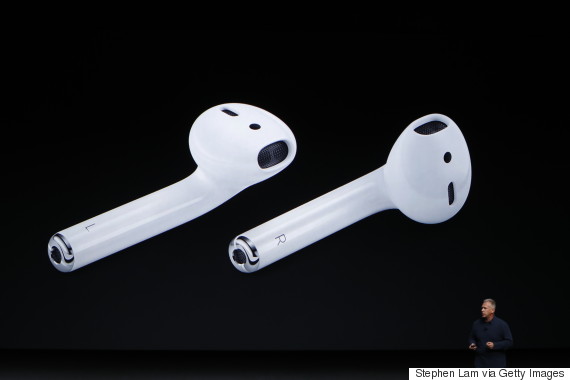 Apple senior vice-president of worldwide marketing Phil Schiller announces AirPods during a launch event on Sept. 7, 2016 in San Francisco, Calif. (Photo: Stephen Lam/Getty Images)
One of the biggest complaints about the iPhone 7 surrounds the new, US$159 wireless earbuds, known as "AirPods."
Unlike previous headphones, they have to be bought separately and charged, allowing five hours of listening when the battery is full. (The iPhone 7 does comes with wired headphones, along with an adapter that allows you to connect older headphones to the jack-less phone).
Apple called them an "effortless wireless listening experience" in a news release.
But social media users are largely focused on how easily they could lose the pricey new headphones, MarketWatch noted.
Apple should make a "find my Airpods" feature ... just sayin

— Marques Brownlee (@MKBHD) September 7, 2016
don't lose your #AirPods, bro pic.twitter.com/eLYtZoOUVM

— Jenna Blackwell (@MissJennaB) September 8, 2016
I have a tip if your gonna lose your apple air pods you can just tie them together with some string and wrap it round your phone

— Dom Craik (@DomCraik) September 8, 2016
Never lose your AirPods again! pic.twitter.com/CizSpMNJGB

— Logan Sama (@djlogansama) September 8, 2016
The hefty price attached to "AirPods" may put people off but, as The Verge noted, it's actually fairly competitive next to other headphones that can cost as much as $300.
Apple stock dropped by 2.5 per cent to $105.71 following the announcement of the iPhone 7 on Wednesday, according to Reuters.
The drop marked the stock's worst performance since the Brexit vote on June 24, an event that triggered feverish selling activity.
Nintendo enjoyed more of a boost than Apple did, as its U.S.-listed stock rocketed up by 29 per cent following the news that a "Super Mario Bros." game would be available on the iPhone 7, the news agency added.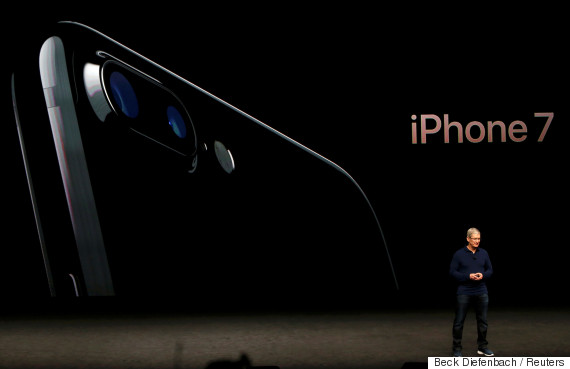 Apple CEO Tim Cook discusses the iPhone 7 during an Apple media event in San Francisco, Calif., on Sept. 7, 2016. (Photo: Beck Diefenbach/Reuters)
Wednesday's Apple event came months after market research firm IDC projected that Canadian smartphone sales would decrease by 7.5 per cent in 2016.
That partly has to due with the collapse of resource prices and the havoc they've wreaked on Canada's economy.
But not everyone is so pessimistic about Apple's prospects.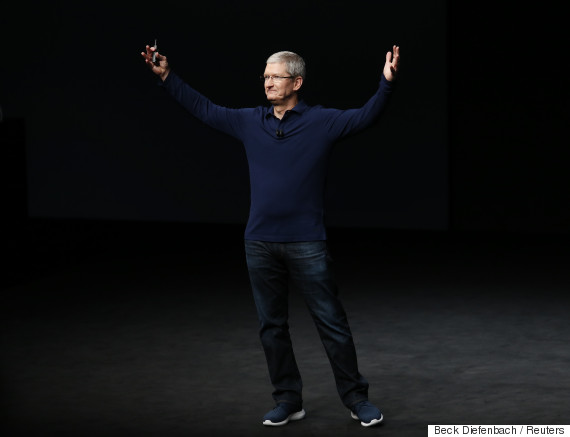 Apple CEO Tim Cook. (Photo: Beck Diefenbach/Reuters)
Bank of Montreal analyst Tim Long said the design improvements make for "attractive phones," which will be "meaningful upgrades" for the people who already use Apple devices.
He considers Apple stock an "outperformer" and projects that it could hit $116 over a year-long period.
CORRECTION: An earlier version of this story said the iPhone 7 comes with headphones that require an adapter to connect to the new phones. In fact, it comes with an adapter that allows you to connect older headphones. The "EarPods" that come with the phone require no adapter.
Also on HuffPost