OTTAWA — Conservative MPs are heading to Atlantic Canada next week — where the party was completely shut out in the last election. They hope to remind voters in Halifax that the Tories haven't forgotten them and to plan for the upcoming sitting of Parliament.
It's the first summer caucus meeting outside of Ottawa in years. Under prime minister Stephen Harper, Conservative MPs met on Parliament Hill rather than in Canadian locales as the Liberals and NDP do.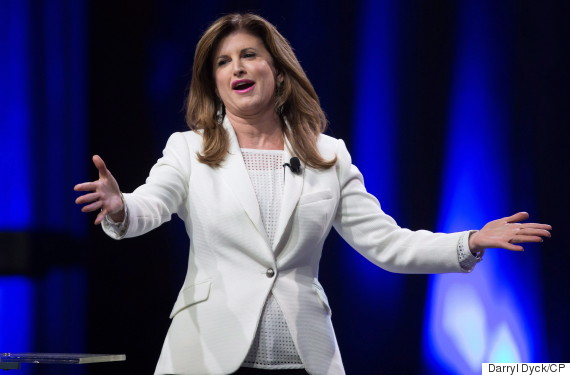 Interim Tory Leader Rona Ambrose speaks to delegates during the 2016 Conservative Party Convention in Vancouver, B.C. on May 26, 2016. (Photo: Darryl Dyck/CP)
Jamie Baillie, leader of the Nova Scotia Progressive Conservative party, says he's thrilled to welcome the federal caucus and believes it's part of the "new tone" coming from interim party leader Rona Ambrose.
"Our region did not an elect a single Conservative MP, and yet they have chosen Atlantic Canada to do their first caucus outside the national capital. I certainly appreciate that," he told The Huffington Post Canada in a phone interview. "I believe it is a sincere attempt to reach out to our region of the country."
On Tuesday, Baillie and local Tories will take part in a fundraising lobster dinner with the federal team at Murphy's the Cable Wharf. Ambrose is the guest speaker.
'We are already being taken for granted'
The Nova Scotia PC leader is also scheduled to address the federal caucus along with other Tory opposition leaders from New Brunswick, Prince Edward Island and Newfoundland and Labrador. Their message, he said, will be that they need a strong opposition voice for the Atlantic region in Ottawa.
"We are already being taken for granted," Baillie told HuffPost. "The Atlantic Canada Opportunities minister has been moved to Toronto, our Supreme Court seat is no longer guaranteed — unlike every other region of the country….
"Our problem is that we have 32 silent MPs — it's like the silence of the lambs whenever these things are happening to our region — and four compliant Liberal premiers. I just don't think it's healthy for democracy."
Baillie said he finds it very frustrating to read in the media that there is little or no opposition to things such as the potential loss of the Supreme Court seat historically set aside for an Atlantic Canadian because there is no one in a position of power speaking out.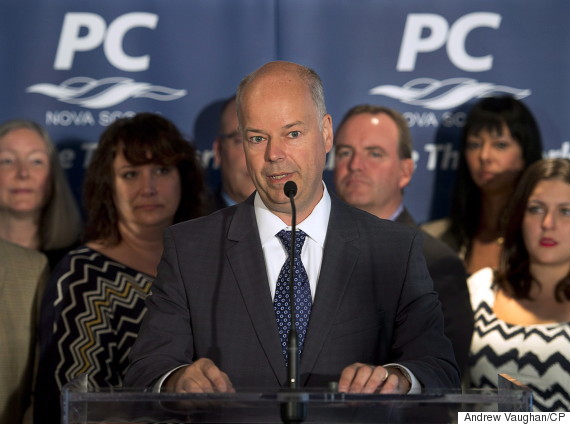 Nova Scotia Progressive Conservative leader Jamie Baillie delivers his party's platform in Halifax on Sept. 11, 2013. (Photo: Andrew Vaughan/CP)
"There is some pretty strong opposition, some pretty strong feelings about that issue, about health transfers, about ACO [Agency] in Atlantic Canada, but because there is no elected federal opposition voice, you don't always see it."
Ontario MP Erin O'Toole said the federal caucus was pretty much unanimous in agreeing to hold its meetings in Nova Scotia. Ontario MP Lisa Raitt — a Cape Breton native who got married there last week — pushed passionately for Sydney, N.S., O'Toole said, but he fought for Halifax, where he served in the Canadian Forces, went to law school and where his wife is from. Get ready, he said, to hear lots about the caucus members' local ties.
"We want to show to our supporters down there, to our former colleagues who lost, and our networks there, that by no means are we giving up on a single seat in Atlantic Canada," he told HuffPost. "The biggest disappointment of last October was that we didn't keep at least a foothold," he added.
The Conservatives continue to have "good support" in traditional Tory ridings, O'Toole said, "it's just that, in a change election, that was the epicentre of change."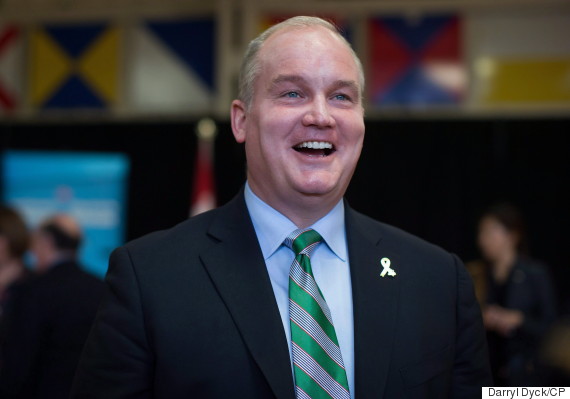 Erin O'Toole speaks at a news conference in Vancouver, B.C., on March 17, 2015. (Photo: Darryl Dyck/CP)
"You can sweep in, but just as quickly you can be swept out," he added, noting how Liberal prime minister Jean Chrétien won every seat but one in the 1993 election but lost 21 seats four years later in the region.
To showcase the party's commitment to Atlantic Canada, MPs who are paired with Nova Scotia ridings — O'Toole's "buddy riding", for example, is Sackville–Preston–Chezzetcook — will take the opportunity to visit. A few months ago, each Conservative MP was buddied up with at least one riding to help local electoral district associations that no longer have an MP or haven't had one in many years to raise funds and organize.
The Tories also plan to have a little bit of fun. Halifax hospitality is legendary, O'Toole noted, and since a third of the Conservative caucus are new MPs, it's a perfect opportunity for colleagues to bond.
The fall agenda
Behind-closed doors, however, the Tories' focus will be on the fall sitting in Parliament. They plan to draw attention to what they call "Liberals entitlements" and continue to concentrate on security and economic matters.
Conservative House leader Andrew Scheer said the party will hold the Liberals' feet to the fire to get the Trans-Pacific Partnership agreement signed and the Comprehensive Economic and Trade Agreement concluded. The Tories are concerned by the lack of a jobs plan, Scheer said, and they will push hard to promote energy development and get a pipeline built.
Pointing to the National Energy Board's decision to suspend hearings two weeks ago after protesters in Montreal charged a meeting room, Scheer said the Liberals embolden activists by saying the government needs to get everyone's buy-in before Energy East, for example, can be approved.
"This is the problem with inventing a new term such as 'social licence,'" he said.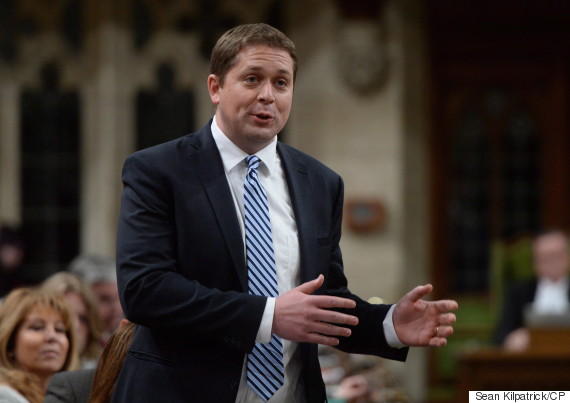 Andrew Scheer speaks during question period in the House of Commons on Parliament Hill on May 11, 2016. (Photo: Sean Kilpatrick/CP)
In the House of Commons, the Tories will remind voters that everything Prime Minister Justin Trudeau promised his deficits would create — "the prosperity, opportunity, growing the middle class" — has so far just created "a whole lot of red ink," Scheer said.
"When people are losing their jobs, and continuing to see those negative economic indicators, there are a lot of families that are stressed out with no sense of compassion or concern by this government — they are just ploughing ahead with their ideological agenda."
The party will also continue to call for a referendum on any changes to the electoral system, Scheer added, and push for a vote in Parliament on the upcoming peacekeeping mission.
"We want to show to our supporters down there, to our former colleagues who lost, and our networks there, that by no means are we giving up on a single seat in Atlantic Canada."
— Tory MP Erin O'Toole
In late August, during the Liberals' caucus meeting in Saguenay, Que., the federal government announced that Ottawa is preparing to spend $450 million over three years to send up to 600 Canadian Forces personnel and up to 150 police officers and support staff to an unidentified, potentially dangerous, mission in Africa.
During the Tories' caucus session, the party's critics will give presentations about issues that have developed over the summer, and MPs will do some long term planning on policy areas they want to push. There will also be feedback sessions with MPs, who have been in their ridings for several months.
"It's an opportunity to develop some solid policy proposals for the next little bit and identify areas that they have to connect with Canadians on," Scheer said.
Leadership race is heating up
On the sidelines of caucus, however, much of the chatter is expected to be about the Tories' leadership race.
There are only five official candidates so far: MPs and former cabinet ministers Maxime Bernier, Michael Chong, Tony Clement, Kellie Leitch, and Deepak Obhrai.
Leitch recently grabbed national headlines for saying potential immigrants and visitors to Canada should be screened for what she called "anti-Canadian values." Several of her Tory colleagues, including other leadership candidates, condemned her comments suggesting she was pitting Canadians against each other and hurting the Conservatives chances to rebuild support with immigrant communities.
Saskatchewan MP Brad Trost and Toronto-based communications consultant Adrienne Snow also declared their intentions to run for the leadership over the summer but haven't officially become candidates.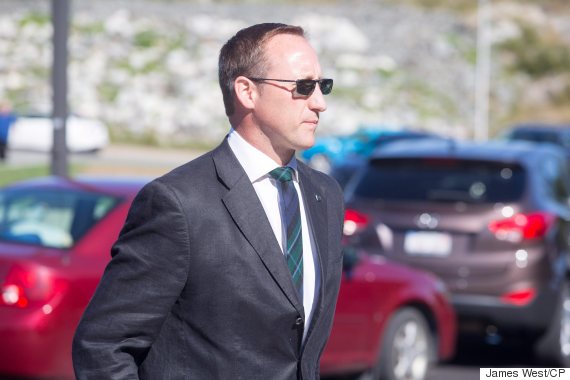 Former MP Peter MacKay arrives for the funeral service for MP Elsie Wayne at RiverCross Church in Saint John, NB, on Aug. 27, 2016. (Photo: James West/CP)
Other potential candidates, include Scheer as well as O'Toole, Raitt, Manitoba MP Candice Bergen and B.C. MP Andrew Saxton.
All eyes, however, remain on the local boy — former Conservative MP, cabinet minister and Progressive Conservative leader Peter MacKay. He has promised to make a decision "soon."
No matter what happens with the race, Scheer told HuffPost, all the leadership candidates are committed to fulfilling their parliamentary responsibilities.
"Even those who have been in the race for quite a while, they make a point to get to the votes, to do their job on behalf of their constituents," he said, "so I'm confident that we will still have that commitment from the leadership candidates."
The Conservative party is planning two leadership debates this fall. The first on Nov. 10 in Saskatoon and a second in Moncton, N.B., on Dec. 6.
Also on HuffPost
Conservative Leadership Candidates