EDMONTON — The NHL Edmonton Oilers officially sever ties with their lovable lunch-bucket home today and take the keys to a new curvilinear, shiny, silver fun palace filled with four types of seats, chefs, bars and TVs.
"It's an amazing look on the outside and then you come in and see this, it's a pretty special place,'' said Connor McDavid, the Oilers star centre after being the first to test the ice last week at downtown Rogers Place.
Rogers Place replaces Rexall Place, home to the Oilers since 1974 in a city, and region, that loves the team, names streets after its players and delivers year-over-year sellout crowds.
"It's an amazing look on the outside and then you come in and see this, it's a pretty special place.'" —Connor McDavid
It seats 18,641 built at a cost of almost $614 million — a price tag shared by city taxpayers, ticket buyers and the Oilers.
It is the centrepiece of a broad plan to revitalize the city's downtown, an area long-dismissed as an after-hours hibernation zone landmarked by wind-swept parking lots and shuttered store fronts.
Around the rink, in what has been branded the Ice District, a hive of business towers, condos, and hotels, are slowly taking shape.
Inside Rogers Place, it's a world of wide seats, open concourses, curtains and walls demarcated by 38 different ticket price points.
Everything is upscale, punctuated above centre ice by a massive, high-definition scoreboard that spans blue-line to blue-line.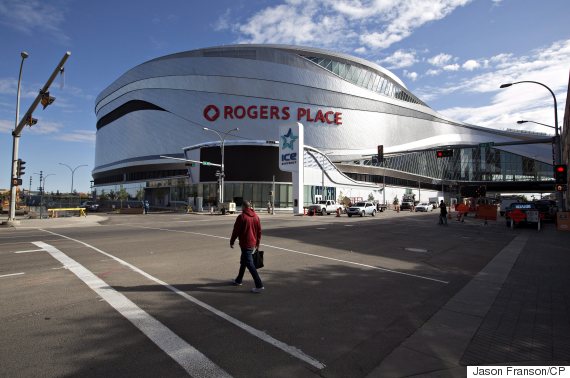 Rogers Place Arena, the new home of the Edmonton Oilers, is shown in Edmonton on Wednesday. (Photo: Jason Franson/CP)
Between the lower and upper bowls are exclusive rings of executive suites, theatre suites and loge seats.
At the far end are a sports bar and an after-hours-type club. Between the blue-lines in the lower bowl are wider club seats, with exclusive lounge access.
The rink lies east-west, so in the first and third periods the Oilers will have their backs to Ottawa and will shoot toward the Rocky Mountains.
Pricier tickets, high-end food
Ticket prices are higher than Rexall Place, in some cases double for a similarly located seat. A season ticket in the corner nosebleeds is $2,600. Sitting near the boards near centre ice for the year will cost $9,765.
If you want to sit in the loge area by the rail with a drink in your hand for the season, that will be $15,750, please.
The food is varied and rises to the high end: butter chicken curry, bison burger, perogy nachos, organic red beet and frisee salad, hot rum buns.
There will be multiple art installations, including the three-metre high bronze statue of Wayne Gretzky hoisting the Stanley Cup, which had been in front of Rexall Place.
A round dance on the tile mosaic in Ford Hall. Done by Alberta artist Alex Janvier. #RogersPlace pic.twitter.com/epryRRuLlt

— Erin Chalmers (@ChalmersErin) September 8, 2016
The ribbon-cutting caps years of melodrama, debate, negotiation, bluff, bluster, apologies and anger that began when Oilers owner Daryl Katz bought the team in 2008 and immediately began beating the drum for a new home.
Katz and the city councillors came together and apart like an accordion as they haggled over who should pay what.
They had a deal in 2011, only to see it fall apart when Katz took another look at the numbers.
Neither side would blink. Katz wooed Seattle as a relocation choice. Fans fumed. Katz apologized. Councillors and Katz came back together. In the spring of 2013 they had a deal.
Concerns still remain over the rink, given the increase in traffic and the impact on low-income downtown residents and the homeless.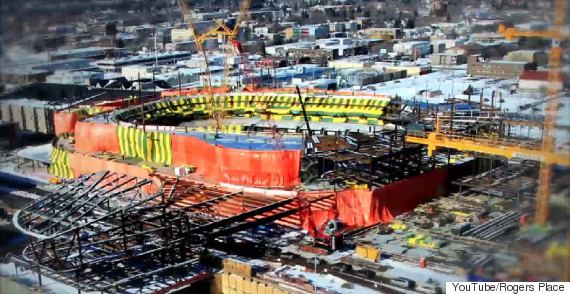 A YouTube still shows the arena under construction in 2015. (Rogers Place/YouTube)
Meanwhile, the Oilers, and their fans, need a pick-me-up.
The team, home to hockey's last great dynasty, has missed the playoffs for 10 consecutive seasons. If they miss again in their new home it will be an NHL-record 11.
They're hoping that McDavid, one of the most highly sought-after junior players since Sidney Crosby, will be the catalyst to turn Rogers Place into Rexall redux, where Stanley Cups are lifted and oil-drop faithful can once again revel in the glory of their times.
Also on HuffPost