Suicide is an issue that isn't talked about enough.
This is partly because it's a tough conversation, especially when discussing children and teens, and partly because the media doesn't want to unintentionally inspire copycat suicide attempts.
But ignorance is not bliss when it comes to suicide, because not talking about it does nothing to help prevent it.
That's why World Suicide Prevention Day on Sept. 10, which kicks off Suicide Prevention Week until Sept. 16, is so important as a push to get us discussing this difficult topic.
And why HuffPost Canada is launching Frame Of Mind, a new series inspired by The Maddie Project that will focus on teens and mental health to raise awareness and spark a conversation.
But given the dearth of media coverage, aside from the brief flurries following a celebrity death or a new flare-up in the ongoing suicide crisis in northern Canada's indigenous communities, it's hard to know the depth of the problem.
Or, it was hard to know before the just-released report "Teens Talk" came out to fill that information gap.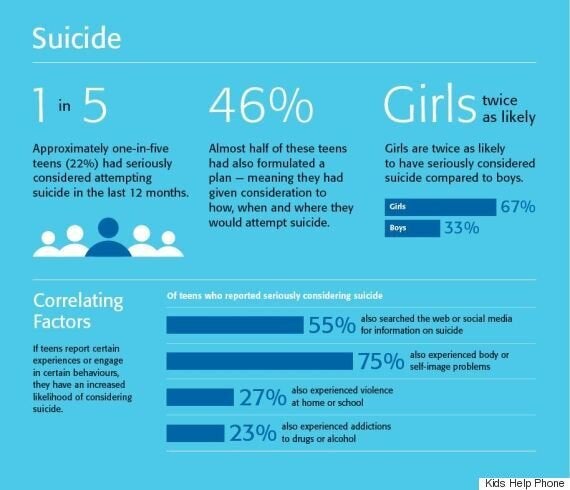 "Kids Help Phone commissioned this report to better understand the challenges teens are facing and to engage Canadians in an important dialogue about how we can make our country safer, healthier and friendlier to young people," explains Alisa Simon, vice-president of counselling services and programs for the national non-profit.
Kids Help Phone conducts 185 counselling sessions per day, eight per cent of which are suicide-related. But this report is an effort to find out more from the kids who don't call for help.
"Teens Talk" compiled and analyzed the findings of a national survey of 1,319 teens between the ages of 13 and 18 about suicide, self-image, relationship issues and bullying.
The report discovered that 22 per cent of teens have "seriously considered attempting suicide in the last 12 months." It gets worse. Of those young people, 47 per cent "did not speak to anyone about suicide" and 46 per cent had a plan, "meaning they had given consideration to how, when and where they would attempt suicide."
They were also twice as likely to be girls as boys (67 per cent to 33 per cent) and more likely than the general teen population to have body or self-image concerns (75 per cent to 46 per cent), violence at home or school (27 per cent to 11 per cent) or drug or alcohol addictions (23 per cent to 9 percent).
22 per cent of Canadian teens have "seriously considered" suicide in the past year. 47 per cent did not speak to anyone about it. 46 per cent had a plan.
Fifty-five per cent of these kids also searched for information on suicide online. But aside from checking their search history, how can a parent see the warning signs in their own children?
"Each teen is unique, however there are some common signs of emotional distress to watch out for which [are] mostly related to observing significant changes in behaviour," says Simon.
"A teen may be talking about feeling alone, hopeless, isolated, useless or being a burden to others. They may be showing irritability and hostility that is out of character, they may not be enjoying the activities they used to, or they may have started to be anxious or withdrawn."
We now know that almost half of teens with suicidal thoughts don't talk to anyone at all, and for 16 per cent of them that is because they're afraid their parents will find out.
"They can tell their teen that they are loved, they are important, and that they care about them."

— Kids Help Phone's Alison Simon
Simon suggests that "parents can make sure their teen knows that they are always there to talk, no matter how big the issue, and that when their teen does talk to them, that they really listen to what they are saying without judgment. They can also make sure they know that there are additional supports such as our counselling service, health professionals and credible sources of information online."
"Finally," she adds, "they can tell their teen that they are loved, they are important, and that they care about them."
When kids do talk to someone, 38 per cent of the time it's mom and 15 per cent of the time it's dad. The rest of the time they talk to a personal friend (54 per cent), a boyfriend/girlfriend (38 per cent) or a sibling (14 per cent).
But parents can still help here by advising their own kids on how to help others.
"Parents should try to educate their teen on some of the signs of emotional distress, such as talking about feeling alone, hopeless, isolated, useless or being a burden to others. They should let their teen know that it's okay to reach out to their friend and let them know they are not alone, and that it is okay to ask for help," says Simon.
"They should also try to increase their own teens' knowledge of suicide and suicidal thoughts, so they can direct their friends towards helpful credible resources, and professional services such as Kids Help Phone."
If you or someone you know is at risk, please contact your nearest Crisis Centre or call Kids Help Phone at 1-800-668-6868 to speak to a counsellor.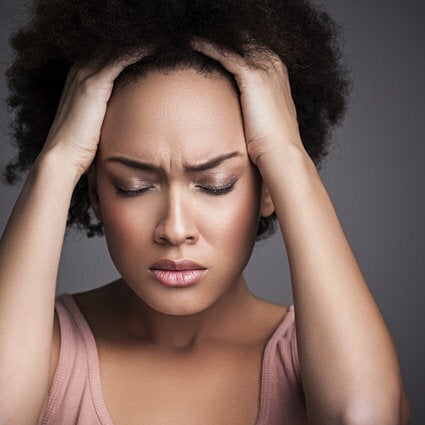 Frame of Mind: Youth Mental Health Issues And Suicide In Canada