EDMONTON — Anyone getting a first look at Edmonton's new hockey arena should be sure to look down.
A large mosaic created by internationally renowned Canadian artist Alex Janvier stretches 14 metres across the floor of the entrance hall.
It is the largest of four pieces of public art chosen for Rogers Place.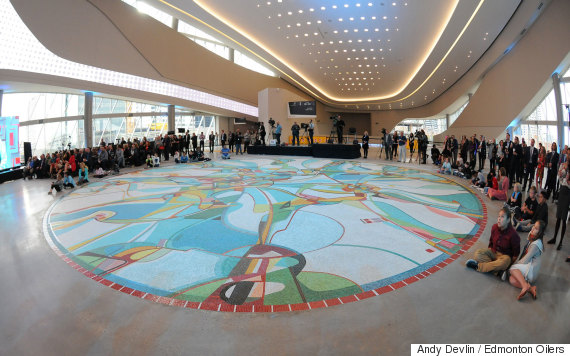 Alex Janvier's mosaic is made of nearly a million tiles. (Photo: Andy Devlin/Edmonton Oilers)
The colourful mosaic is made up of nearly a million glass tiles, weighs almost 1,600 kilograms and took 20 staff from Montreal design company Mosaika six months to put together.
Called Iron Foot Place, it was officially unveiled this morning.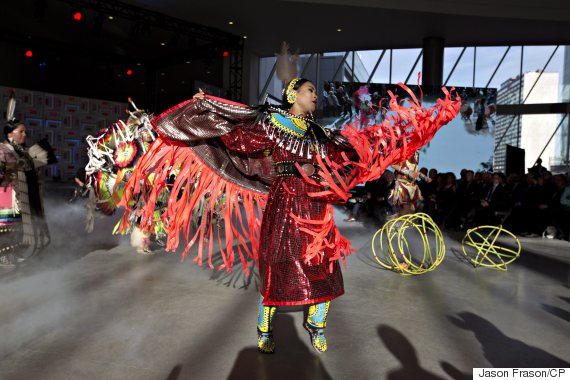 A dancer performs during the ribbon cutting ceremony at Rogers Place Arena on Sept. 8, 2016. (Photo: Jason Franson/CP)
Janvier has deep roots in Alberta.
Of Dene suline and Saulteaux descent, he was born on the Le Goff reserve near Cold Lake and at age eight was sent to the Blue Quills Indian Residential School near St. Paul, where he escaped into his artwork and began to nurture his talent.
"It's fitting this artwork by Alex Janvier was chosen for the heart of this space,'' Mayor Don Iveson said in a release. "Not only does it celebrate our shared history, it also represents the natural beauty and tranquility of our landscape.''
"Placing this powerful indigenous voice at the heart of Rogers Place transforms the space with a spirit that will enrich, inspire and provoke those who visit,'' added Sanjay Shahani of the Edmonton Arts Council.
Also on HuffPost