It's been 20 years since "Blue's Clues" first aired and now everyone's wondering, "What the heck happened to Steve?"
Steve Burns was the original host of the show and played the owner of the cartoon dog, Blue. He got the role at the age of 23 and starred on the show from 1996 until 2002. At that point, Steve "left for college" and his cousin Joe, played by Donovan Patton, took over the role as host.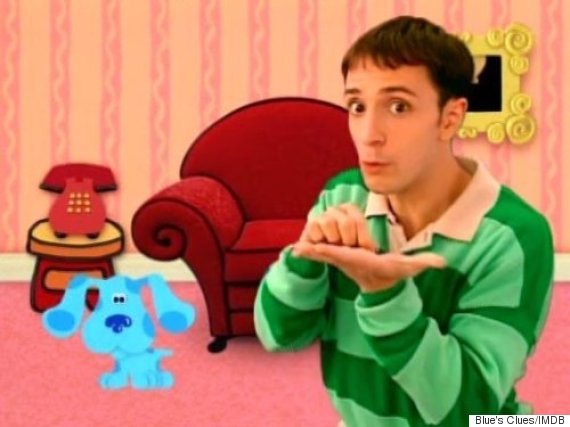 So where is Steve now? Ever since he left the show, it's been long rumoured that the actor died of a heroin overdose. But we have good news! Steve is actually alive and well.
Here's what he looks like now:
Despite the terrible rumour, Steve has kept a good sense of humour. Following gossip of his death, the 42-year-old changed his social media handles to @SteveBurnsAlive.
Arguably still alive.

— Steve Burns (@SteveBurnsAlive) January 6, 2015
According to MTV, Steve pursued a music career following his departure from "Blue's Clues." His first indie rock album, "Songs for Dustmites," was released in 2003, and his second, "Deep Sea Recovery Efforts," was released in 2009. The latter was made in collaboration with The Flaming Lips.
Steve also kept to his acting roots. He went on to star in the 2007 comedy-horror "Netherbeast Incorporated," as well as the 2008 sci-fi film "Christmas on Mars." Most recently, Steve appeared in the YouTube series "The Professionals," Us Weekly reports.
Today, Steve credits "Blue's Clues" for jumpstarting his career.
"I don't think [being on the show] has caused any sort of credibility deficit," he once said. "I think it's an amazing children's television show... I'm incredibly proud to have been even involved in it. I think coming from kids TV, it just makes the story more interesting."
On the show's anniversary on Thursday, the actor paid tribute to "Blue's Clues" on Twitter.
Blue's Clues turns 20 today and I'm still so grateful for all your help.

— Steve Burns (@SteveBurnsAlive) September 8, 2016
He also joked about hating his khaki pants on the show, and how life is less exciting as a grown up.
Blue's Clues turns 20 today and I'm still a little mad about the pants. pic.twitter.com/p9BJbviWVK

— Steve Burns (@SteveBurnsAlive) September 8, 2016
Noticing that I'm less excited about the mail at 42 than I was at 22.

— Steve Burns (@SteveBurnsAlive) September 8, 2016
ALSO ON HUFFPOST: