Employment in Canada grew by 26,000 in August, Statistics Canada said Friday -- a much stronger number than economists had been expecting.
Still, the country's unemployment rate rose a notch to 7 per cent as more people entered the workforce to look for jobs, the statistical agency said.
Beneath the headline number, the details were even stronger: Canada added 52,000 full-time jobs, while shedding 26,000 part-time jobs, suggesting an improving labour market. It more than offset the large 31,000-job decline the month before.
A poll by Thomson Reuters showed economists expecting a much more timid 15,000 net increase in the number of jobs this month.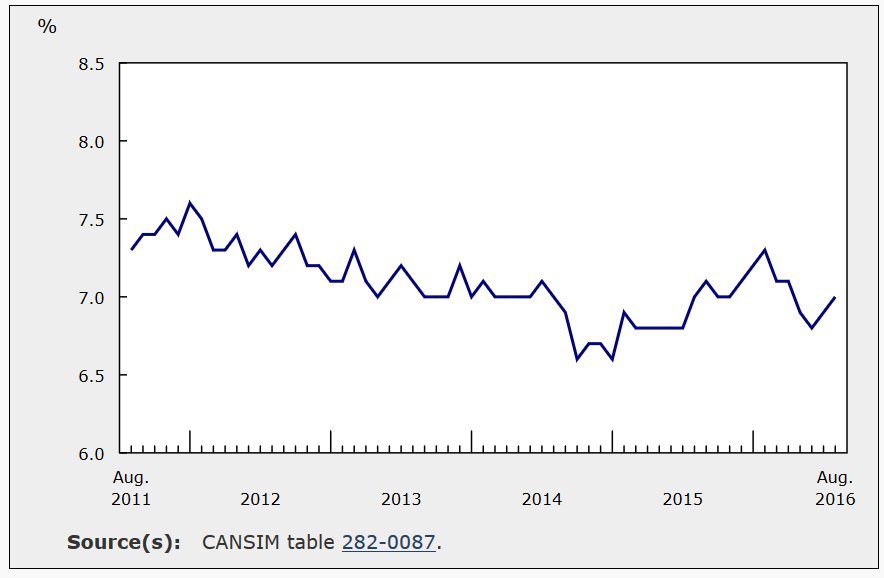 Canada's unemployment rate since 2011. (Chart: Statistics Canada)
But the two provinces that had been driving much of the country's job growth in recent months -- Ontario and British Columbia -- took a breather in August. British Columbia lost 6,600 jobs, while Ontario added some 10,500 jobs -- but that wasn't enough to keep the province's jobless rate from rising three notches, to 6.7 per cent.
Recession-riddled Alberta lost another 1,200 jobs in the month, though its unemployment rate dropped two notches to 8.4 per cent.
Still, the strong month wasn't enough to offset a surprisingly weak job market through much of this year. Overall, employment in Canada is up just 0.4 per cent over the past year, not nearly enough to cover the roughly 1.1 per cent annual population growth the country is seeing.
The strong numbers suggest Canada is indeed seeing an economic rebound in the third quarter of this year. StatsCan reported last month that the country's economy shrank 1.6 per cent in the second quarter, its worst performance since the depths of the Great Recession in 2009. But much of that weakness was due to the Alberta wildfires in May, and economists expected to see a rebound later this year.
Also on HuffPost