A director whose decades-old rape controversy recently resurfaced made his first public appearance at the Toronto International Film Festival Friday night, but apparently, things went off without a hitch.
Nate Parker's "The Birth of a Nation" was met with a lengthy standing ovation at the Winter Elgin Garden Theatre, E! News reported.
The movie is loosely based on the story of Nat Turner, who led a historic slave rebellion in the U.S. in 1831.
After the screening, Parker — who directed and starred in the film — took the stage to speak to the audience.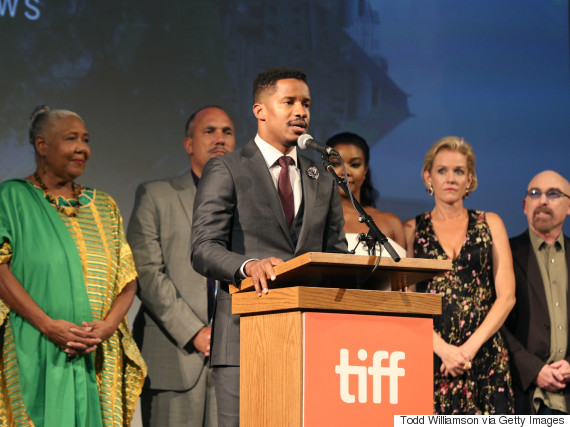 Nate Parker speaks to the crowd following the screening of his film, 'The Birth of a Nation' at the TIFF.
"We should all look at this film in the sense that this was a person that stood against a system that was oppressing people," he said, according to BBC.
The movie's early success has generated Oscar buzz, but it's also brought up details of a past rape case against the director.
Parker and his friend Jean Celestin — who is credited as a story writer on "The Birth of a Nation" — were accused of sexually assaulting a fellow student at Penn State University in 1999.
Parker was acquitted. Celestin was initially given six months in prison, but a mistrial was declared after his appeal because the alleged victim did not want to testify again.
During the question-and-answer period after Parker's TIFF screening, there was only time for two questions, according to the Toronto Star.
The audience reportedly didn't mention the controversy at all.
#TIFF16 Nobody asked THAT question at the Birth of A Nation Q and A.

— Ben Harrison (@6BenHarrison) September 10, 2016
ed
So apparently sexual assault did not come up once during the first Birth of a Nation q & a. that's disappointing. #TIFF16

— Radheyan Simonpillai (@FreshandFrowsy) September 10, 2016
Also on HuffPost