GANDER, N.L. — As the United States marks the 15th anniversary of the 9/11 terrorist attacks Sunday, Canadians are also be pausing to reflect on the tragedy and their connections to it.
Prime Minister Justin Trudeau issued a statement saying Canada joins with the families and friends of the victims to remember those who died, including 24 Canadians.
"We also offer our heartfelt support to those still struggling with the physical and emotional injuries they sustained on 9/11,'' Trudeau said in the statement.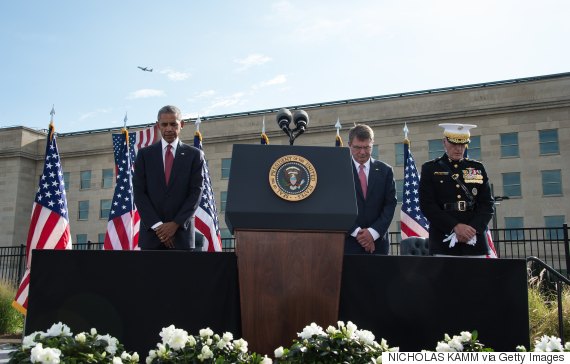 U.S. President Barack Obama, Defense Secretary Ashton Carter, and Joint Chiefs of Staff Gen. Joseph Dunford attend a ceremony commemorating 9/11 on September 11. (Photo: Nicholas Kamm/AFP/Getty Images)
"We recognize the extraordinary courage and bravery of the first responders on that day and the days that followed. We honour the EMTs, the firefighters, the police officers, and all those who ran toward the sounds of danger and the plumes of smoke, risking their lives so others might live,'' Trudeau said.
"While 9/11 will long be remembered as a day of destruction and terror, let us also remember it for the remarkable humanity that was shown in such a tragic time. May we never forget the countless Canadians, from coast to coast to coast, who opened their hearts and their homes to those affected by the attacks.''
Trudeau said that on behalf of the Canadian government, he and his wife, Sophie Gregoire Trudeau, encourage Canadians "to remember the tremendous outpouring of goodwill shown on 9/11 by participating in charitable and community activities, and other worthy causes across the country, as part of the National Day of Service.''
Goodale: 'That day is etched in blood and terror'
In Ottawa, Public Safety Minister Ralph Goodale reflected on 9/11 when he spoke at an event honouring firefighters.
"That day is etched in blood and terror, but from that brutality rose a legacy of heroes,'' Goodale said as he spoke at the Canadian Firefighters Memorial.
He praised the residents of Gander, N.L. for making sandwiches and bed for those who had to unexpectedly stay in that community due to disrupted plans, as well as the first responders who rushed into harm's way in Lower Manhattan.
"They showed the very best of the human spirit, the last drop of devotion, and the core of steel that upholds the open, inclusive, generous, democratic way in which we want to live our lives,'' Goodale said.
"Firefighters were always heroes, but since 9/11, their image everywhere has become synonymous with service, duty, honour, valour, sacrifice and defiance in the face of those who would debase our values or maim our way of life,'' Goodale said.
Later on in the day, several events will be held in Gander, N.L., where nearly 7,000 plane passengers were stranded for three days when all flights were grounded.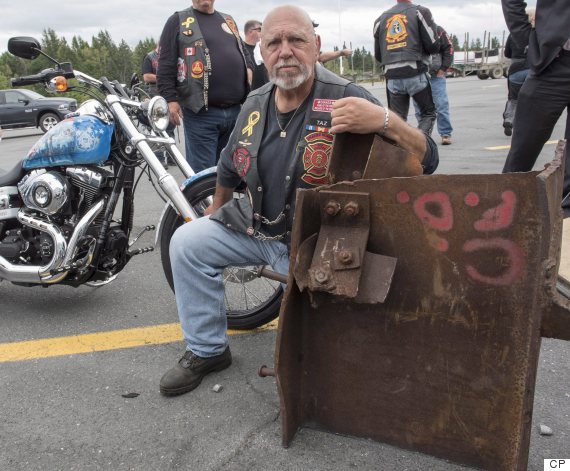 Dave Gallant, president of Red Knights Chapter 1 in New Brunswick, kneels beside a steel beam from the World Trade Centre on Sept. 8. The beam will be presented as a thank you to the people of Gander, N.L. who sheltered stranded passengers due to closing of the United States air space on Sept. 11, 2001. (Photo: Stephen MacGillivray/The Canadian Press)
Thousands are expected to attend an ecumenical service at the town's community centre, including Halifax-based U.S. Consul General Steven Giegerich and the province's Premier Dwight Ball.
The Gander and Area Chamber of Commerce says the ceremony, organized with the Canadian National Day of Service Foundation and Wounded Warriors Canada, will commemorate the tragedy but also raise awareness about Post Traumatic Stress Disorder.
A piece of steel beam from the south tower of the World Trade Center will also be unveiled during a ceremony at the town's airport, a thank you gift from the Stephen Siller Tunnel to Towers Foundation, named for a New York firefighter killed while helping to rescue people from the World Trade Center's twin towers.
Also on HuffPost