Residential school survivors in a Saskatchewan community took part in a "symbolic demolition" of the building that they were forced to attend for so many years.
Indigenous and Northern Affairs Minister Carolyn Bennett was present at the event in Île-à-la-Crosse in northern Saskatchewan. She held a sledgehammer first before inviting two former students to join her.
A Facebook video posted by the village last week shows the two survivors named Angus and Violet, taking the sledgehammer and striking a wall of the school.
You can watch the video embedded above.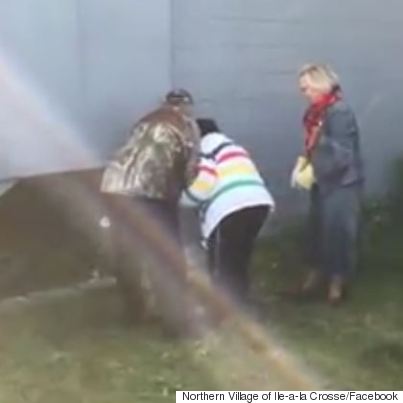 Survivors hit their former residential school with a sledgehammer as Indigenous Affairs Minister Carolyn Bennett looks on. (Photo: Northern Village of Ile-a-la Crosse/Facebook)
"Knock it all down," someone is heard saying, as the pair hits the building and the crowd starts applauding.
The school closed down in the mid-1980s, according to CTV.
From the 1880s until the last school shut down in 1996, Canada's residential school system forced about 150,000 First Nations, Inuit and Metis children to attend church-run facilities that aimed to "take the Indian out of the child."
The students faced widespread neglect and abuse in the schools, which was examined by the Truth and Reconciliation Commission. It released a report with 94 broad recommendations earlier this year, which the Liberal government has promised to act on.
Also on HuffPost
Residential Schools: A Photo History