Facebook users applauded one Newfoundland man after he kept a promise to police on Facebook that he'd turn himself in.
Brandon Melbourne, who lives in St. John's, commented on a photo of himself on the Royal Newfoundland Constabulary's Facebook page, which cops had posted seeking his arrest, according to CBC News.
The Facebook post has since been deleted.
**WANTED**

Brandon MELBOURNE (92-Sept-1)

**PLEASE SHARE** pic.twitter.com/rDor0T4lUY

— RNC (Police) (@RNC_PoliceNL) September 10, 2016
Some users who commented on the "wanted" photo compared Melbourne to a man cops were seeking in connection with a robbery at a local Bank of Montreal on Friday, according to the outlet.
Melbourne, 24, just couldn't resist not commenting.
"Bys oh bys (sic) I look far from the BMO suspect different glasses, bigger nose and no neck tattoo but yet I'm 'guilty,'" he shot back, according to CBC.
He then began to rail on those who judged people with tattoos, and acknowledged that while he looked a little like the alleged bank robber, he wasn't capable of committing such a crime.
"I wouldn't Robb (sic) a chocolate bar let alone a bank so all yee gotta stop judging someone you don't know," he wrote, according to the Telegram.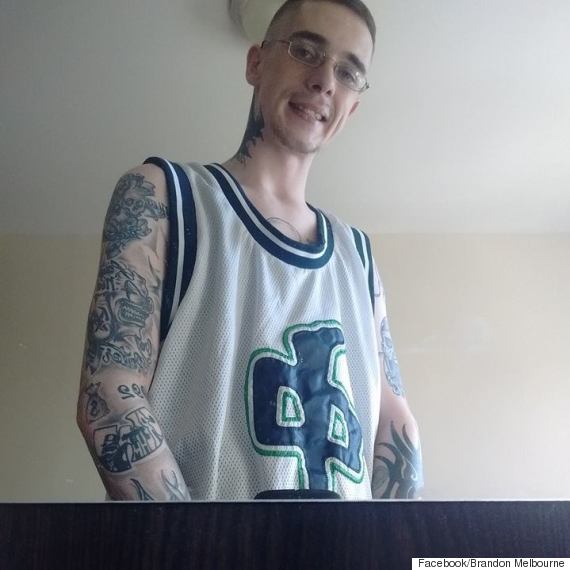 Brandon Melbourne, 24, was wanted by police in Newfoundland on five arrest warrants. (Photo: Brandon Melbourne/Facebook)
But the police couldn't stay out of the discussion either.
"In the meantime... we have five warrants we would like to discuss with you. Please get in touch Brandon," they responded Monday.
Melbourne said he had some other commitments that day, but would stop by around 9 p.m. to turn himself in.
"I'm a man of my word so I'll see you tonight," he wrote.
And he was. Cops confirmed Monday night that Melbourne came to their St. John's headquarters.
But instead of judging the 24-year-old, Facebook users commended him for doing the right thing.
"Good on him. Way to go Brandon. This is the start to your new future if you want it," wrote Patti Giles-Newell.
"And was considerate enough to get himself there, instead of making you guys go out of your way to pick him up. Nice of you to offer, though!" wrote Carol Murphy.
Good job all around, everyone.
Also on HuffPost
Saskatchewan's Most Wanted (July 2016)