The federal immigration minister suggests a Conservative leadership contender's talk about screening newcomers for "anti-Canadian values" is about little more than raising her own profile.
John McCallum was asked Tuesday about a Mainstreet Research poll for Postmedia that shows Kellie Leitch's name recognition and approval rating have both risen among Tory supporters since she sparked the controversial debate.
McCallum had no issues with trying to rain on Leitch's parade.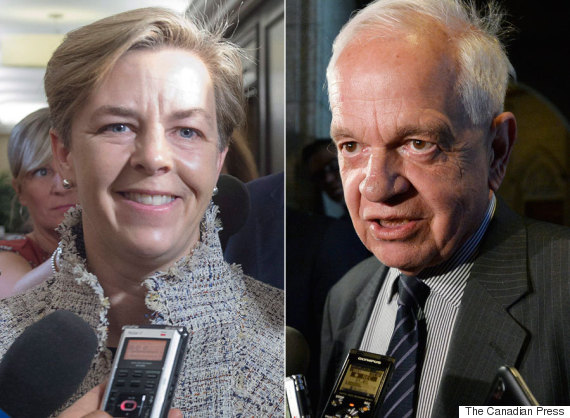 Tory leadership contender Kellie Leitch and Immigration Minister John McCallum. (Photo: The Canadian Press)
"All I would say is I suspect she went up from a very low level," McCallum said when asked if he was surprised Leitch's stock appears to be rising.
"I don't think she was really significantly in the race until she made these statements and then that put her on the map," he said.
The minister also cautioned against drawing broader conclusions about Canadians based on Leitch's apparent spike.
"Notwithstanding this flurry, if you look at polls in general, you see that Canadians are extraordinarily welcoming to immigrants and to refugees, far more so than other countries," he said.
"I don't think we should read too much into this one episode."
'Desperate move'
McCallum was also asked about Leitch's controversial proposal when he appeared on CTV's "Question Period" Sunday.
The minister said he agreed with Conservative leadership candidate Michael Chong's assessment that it represents "dog-whistle" politics. An ex-advisor to former prime minister Stephen Harper also called it "Orwellian."
"I think it's a desperate move for her to grab on to something that gives her a chance of winning the leadership," he said.
McCallum also commended interim Tory leader Rona Ambrose from taking the unusual step of "dumping" on the policy. Ambrose has since backed off critiquing Leitch's proposal, saying it will be up to party members to pass judgment.
Rempel: It's up to Leitch to answer for proposal
That was much the same position Conservative immigration critic Michelle Rempel took Tuesday when pressed by reporters at her party's summer caucus meeting in Halifax.
The Alberta MP said she didn't fully understand Leitch's position and said it was up to her colleague to flush it out.
But Rempel added she feels firmly that Canada is built on immigration and on welcoming newcomers.
"The question of whether or not Canada needs immigration is not up for debate in my mind," she said.
Leitch says response has been positive
Leitch, meanwhile, told The Huffington Post Canada that people have been "responding in droves" and in much different way than has been depicted in the media. She said her inbox has hundreds if not thousands of emails about how such a debate is good for Canada.
"We've been chatting with Canadians across the country and this is an issue that is extremely important to them," she said. "They want to talk about Canadian values, what makes us so strong as a country."
Leitch said that equality, hard work, tolerance, and generosity are all values that Canadians hold dear.
"I'm looking forward to that debate with my caucus mates," Leitch said. "I'm looking forward to the debates."
With files from Althia Raj
Also on HuffPost
Conservative Leadership Candidates