The children of the ultra-rich are being showered with money in what's being called the biggest wealth transfer in human history.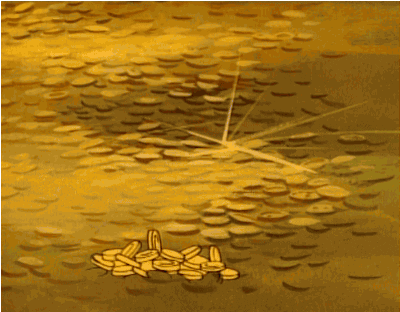 Ultra high net-worth individuals (UHNWIs) — defined as people who hold at least US$30 million in assets — are expected to hand US$16 trillion over to their descendants over the next three decades, financial research firm Wealth-X reported last year.
And much of that — US$3.9 trillion — is expected to be handed down in just the next decade, says "Preparing for Tomorrow: A Report on Family Wealth Transfers," a report that Wealth-X and NFP released Monday.
That projection is down from an estimate of $4.1 trillion that was reached in 2014. And it's only been lowered because the transfer of wealth started earlier than researchers expected.
The money being transferred — which makes up about 13 per cent of all assets belonging to UHNWIs — is equal to the value of the 10 biggest companies in the world put together, including Apple ($588 billion), Google parent Alphabet ($552 billion) and Microsoft ($449 billion).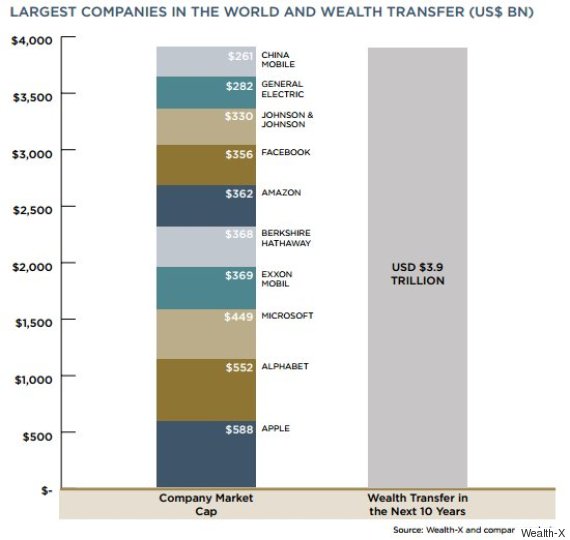 The people passing on their money over the coming decade are believed to be aged 80 years or older, and hold average wealth of $272 million — well above that of the average ultra-rich person, who's worth $141 million.
"In 2015, UHNWIs aged 80 or over were, on average, seven times wealthier than UHNWIs under 30 years old," the report reads.
"Despite the higher media profiles given to teenage Silicon Valley millionaires, there are many more UHNWIs who are significantly older."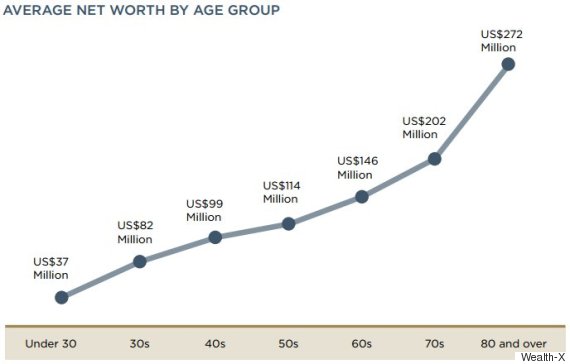 Wealth-X and NFP estimates that over 14,000 ultra-rich individuals will transfer their wealth to the next generation over the next 10 years. As many as 88 per cent of them are men, and 59 per cent of them are concentrated in the Americas.
Canadians alone won't do so bad, either.
CIBC estimates that the Baby Boomers are set to inherit $750 billion over the next decade, in what's being called the "largest intergenerational wealth transfer in Canadian history over such a period of time."
As many as 2.5 million Canadians over the age of 75 have a collective net worth of $900 billion or more. Most beneficiaries are aged anywhere from 50 to 75 years old.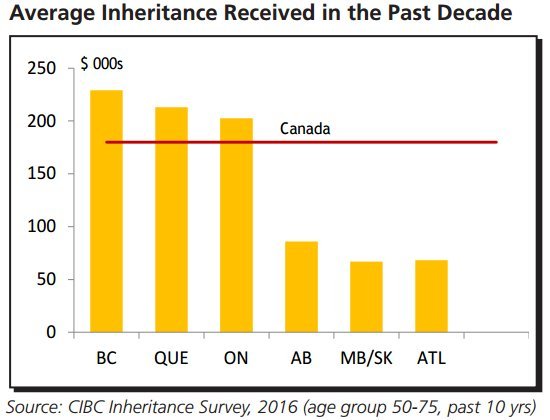 The overall wealth transfer is coming at the same time that the middle class hasn't seen much income growth, according to a McKinsey report quoted by MarketWatch.
The report found that 81 per cent of U.S. middle-income households saw their income stagnate or fall from 2004 to 2014, while 61 per cent said their earnings aren't changing at all.
"Most people growing up in advanced economies since World War II have been able to assume they will be better off than their parents," the report said.
"Yet this overwhelmingly positive income trend has ended."
A similar trend is playing out in Canada. A Statistics Canada study from earlier this year found that income mobility, or the ability to move into a higher earning class, is proving more difficult for this generation than the last one.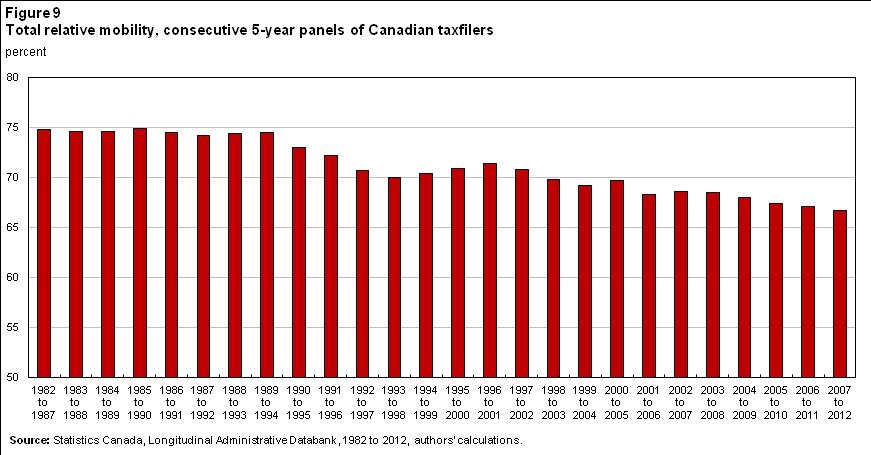 As many as three-quarters of Canadian tax filers found themselves moving up or down the income ladder in the 1980s, but only two-thirds of Canadians moved anywhere between 2007 and 2012, the study found.
In other words: The rich are staying rich, and lower-income people are staying right where they are.
Also on HuffPost
Forbes Billionaires List Top 10