Talk about speed!
On Sunday, four Paralympic athletes in Rio ran the 1500m final faster than gold medal winners at the same race at the 2016 Olympic Games, the Washington Post reports.
At the T12/13 final — a race for the visually impaired — Algeria's Abdellatif Baka finished at 3:48.29 seconds. During the Rio Olympic Games, the U.S.'s Matthew Centrowitz Jr. finished at 3 minutes and 50 seconds at the same event.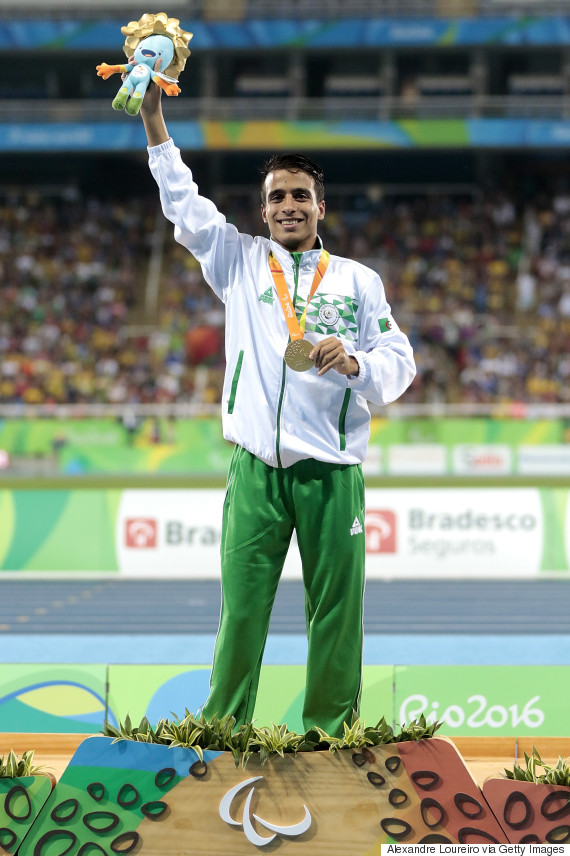 Gold medallist Abdellatif Baka of Algeria celebrates on the podium at the medal ceremony for the Men's 1500m - T13 Final.
"It wasn't easy to get this gold medal," Abdellatif said after his victory. "I've been working one or two years non-stop and it's been very, very hard for me."
WHAT A RUN, BAKA ABDELLATIF #RioRecords!! Congrats Algeria! #Gold #Rio2016 #Athletics #Paralympics https://t.co/rRxzyDQHpv

— IPC Athletics (@IPCAthletics) September 11, 2016
Not only this, but second place, third place and fourth place — which just happened to be Baka's twin brother — were all faster than Centrowitz Jr.'s gold-medal winning time in Rio.
Baka also set a world record over the weekend.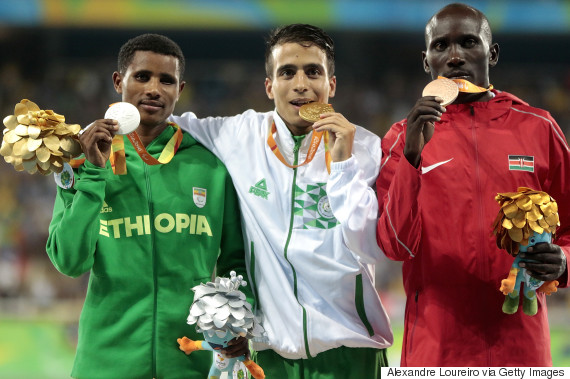 Silver medallist Tamiru Demisse of Ethiopia, gold medallist Abdellatif Baka of Algeria and bronze medallist Henry Kirwa of Kenya celebrate on the podium at the medal ceremony for the Men's 1500m - T13 Final during day 4 of the Rio 2016 Paralympic Games.
According to the Games, there are three classes for visually impaired runners (T11, T12 and T13) and the higher the number, the less severe the impairment is for athletes.
Ethiopia's Tamiru Demisse finished at 3:48.49 for silver, while Kenya's Henry Kirwa finished at 3:49.59 to win bronze.
ALSO ON HUFFPOST:
13 Photos Of Paralympians Perfectly Capture Raw Emotion Of Victory