Late last week, Prince Harry quietly visited East London's Mildmay Mission Hospital — the same hospital his mother, Princess Diana, made famous back in 1989.
The hospital, which focuses on HIV patients, first gained international attention when the late Princess of Wales shook hands with and kissed an AIDS patient on its premises. The gesture shocked many as there was still a lot of stigma surrounding the illness.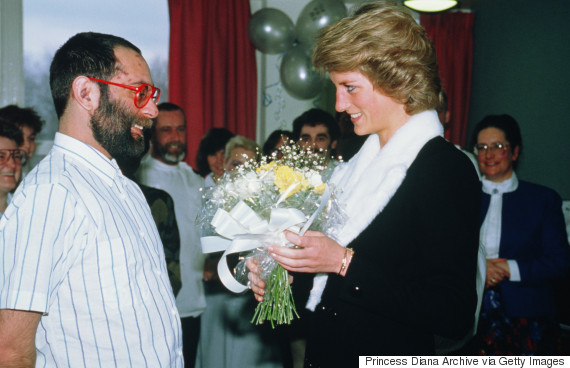 Princess Diana during a visit to HIV patients at Bethnal Green Hospital, London, February 1989.
During his visit on Friday (a follow-up from a previous public visit he made last December), the prince reportedly remarked, "How on earth did she get away with sneaking in and out?" and said, "If only I could do that!" referring of course to his mother's visit many years ago.
According to Kerry Reeves-Kneip, who showed the prince around that day, Harry confessed it was "very important for him to come [to the hospital]" because it was an important place to his mother and because she made numerous visits there, People magazine reports.
Nearly 20 years after her death, Harry is just as dedicated to fighting AIDS and HIV as his mother was. Earlier this year the prince (who turned 32 years old today) took an HIV test on Facebook Live to demonstrate how quick and easy it is to get tested.
Reflecting on the experience, the prince said his generation needs to be leaders in the fight against HIV or we will all lose the gains that have been made thus far in erasing HIV and AIDS stigma.
Also on HuffPost