If you're going to interview pop sensation Ariana Grande on live radio, maybe you want to stick to questions about her music.
You could also ask her about her new video release or her album and maybe, just maybe, not grill her about her so-called new relationship.
In a recent sit-down with Ryan Seacrest, the host made a statement about the 23-year-old "Into You" singer, claiming she had made her relationship with rapper Mac Miller official after posting a photo of them on Instagram.
In the photo, Miller and Grande are seen on the floor hugging with the caption, "baabyyy."
And, relationship or not, the "Side By Side" artist made it clear her relationship status was nobody's business but hers.
The interview, which was posted on Twitter, shows the pop star hitting back at the host for intruding on her personal life.
"That doesn't mean you, Ryan Seacrest, with millions of listeners, are entitled to more information," she said, after the 41-year-old producer brought up the photo.
"If I post something, that's what I am willing to share in the moment," Grande said.
Ariana Grande is a legend. She just embarrassed Ryan Seacrest for being nosy pic.twitter.com/rJQjwn2okz

— not lindsay lohan (@drugproblem) September 14, 2016
And this isn't the first (and probably not the last) time Grande had to grill her interviewers for asking her sexist questions. In 2015, the star sat down with Power 106 to promote a new single when she was asked to choose between her phone or make-up for "one last time" — the name of one of her songs.
"Is this what you think girls have trouble choosing between?" she asked host Justin Credible. "Is this men assuming that's what girls would have to choose between?"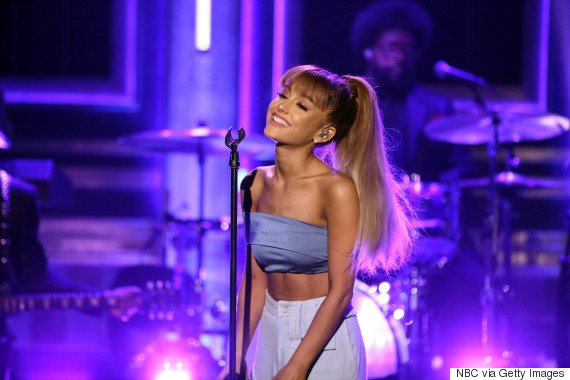 Grande went on to tell her interviewers that boys should be held just as accountable for having phones at the dinner table and that they too use unicorn emojis.
"You need a little brushing up on equality. Who says the unicorn emoji isn't for men? Come on," Grande said.
Check out the full clip with Seacrest in the video above.
ALSO ON HUFFPOST:
Ariana Grande's Style Evolution