There's a feeling of satisfaction every foodie gets when they think they have the insider secret at their favourite restaurants. Whether it's choosing the right table, knowing when to book reservations or ordering off a secret menu, you are suddenly an expert.
Fortunately, a city like Toronto, which has hundreds of restaurants that offer all types of cuisines, you can also find a long roster of secret menu items. What are these mythical foods, you ask? Secret menu items are dishes that restaurants serve off-menu and are often advertised by word-of-mouth. (So, sometimes they're not-so secret.)
While some items like Salad King's Islamic Noodles are well-known, other restaurants like Miku, The Carbon Bar and Adamson Barbecue occasionally switch up their secret menus, keeping foodies on their toes.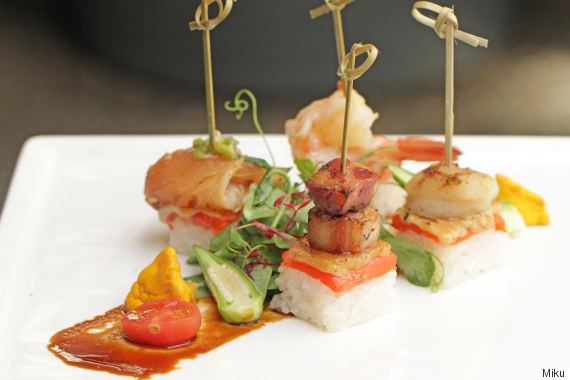 Salmon Oshi Bites from Miku
It's also well-known that fast food giants like McDonald's, Burger King and chains like Starbucks all have their own secret menus, but the majority of Toronto restaurants are willing to make accommodations to their traditional menus to please their customers. So yes, even if you are aren't getting a "secret" meal, you can still choose something vegetarian, gluten-free or just free of tomatoes for personal taste.
And before you check out the list, our one piece of advice is to just ask your server for off-menu items. Sometimes, you will be surprised to find chefs who are willing to get more creative in the kitchen — especially if you ask them to make a meal they are testing out for their menus.
Below is just a glimpse of secret menu items in the city from burgers to poutine to barbecued meat. And yes, we realize the city has a lot more to offer (we have another list here), so let us know, which secret menu dishes are your favourite?
Toronto Secret Menu Items 2016