TORONTO — Forcing journalists to act as investigators for police would undermine the critical role news outlets play in a free society, a coalition of media organizations argue in documents filed with Ontario's top court.
Journalists, the group argues, must be able to gather news by communicating with citizens who are in an adversarial relationship with the state.
"If journalists or media organizations are too easily conscripted into serving as the de facto 'investigative arm of the police,' they will be unable to perform their vital societal role," they say. "Important stories will go untold."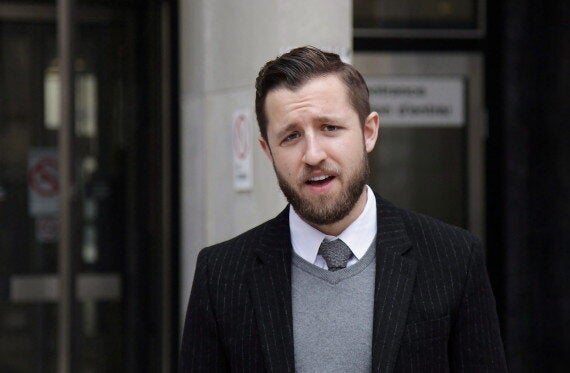 Vice Media reporter Ben Makuch leaves Ontario Superior Court in Toronto on Feb. 29. (Photo: Colin Perkel/The Canadian Press)
The filings with the Court of Appeal come in support of a coalition request to intervene in a case involving an RCMP demand for Vice Media to turn over materials related to a terrorism investigation. The information is related to stories journalist Ben Makuch wrote about accused terrorist Farah Shirdon.
Vice has refused the demand and is appealing a ruling from Superior Court Justice Ian MacDonnell in March that they must do so. The appeal is to be heard in February, with the media coalition set to make its case for intervention on Oct. 27.
The coalition includes news organizations such as the CBC and Aboriginal People's Television Network, as well as advocacy groups such as Canadian Journalists for Free Expression and Reporters Without Borders.
In seeking leave to intervene, they say the issue at hand is far reaching and raises constitutional questions of public importance.
Journalists, they argue, should be able to communicate with sources and conduct their work within a zone of privacy, without fear of being compelled to produce information or documents to law enforcement authorities.
"Production orders targeting the media will always have a chilling effect."
In a supporting affidavit, Duncan Pike with the free expression group said the Supreme Court has made it clear a judge must be particularly careful in granting police or government requests to force media to produce materials.
"Production orders targeting the media will always have a chilling effect," Pike states. "A production order against the media should not be granted simply because it might be useful or convenient."
RCMP have charged the Toronto-born Shirdon in absentia with several offences, including leaving Canada to participate in the activity of a terrorist group, taking part in the activity of the Islamic State terrorist group, and threatening Canada and the United States. Police and government lawyers argue the information is crucial to the ongoing investigation of Shirdon.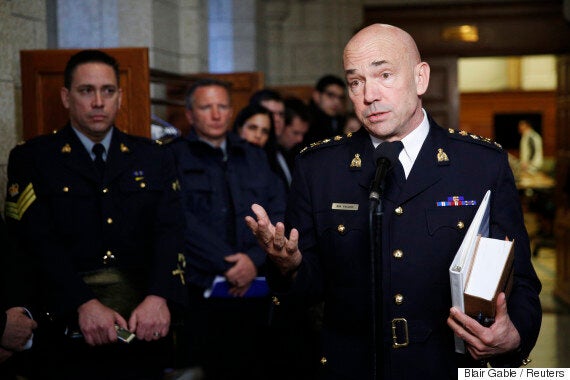 Royal Canadian Mounted Police Commissioner Bob Paulson speaks to media after a public safety committee meeting on Parliament Hill in Ottawa on March 6, 2015. (Photo: Blair Gable/Reuters)
In its separate application for leave to intervene, the Canadian Civil Liberties Association says it wants to focus primarily on court orders sealing or banning from publication the materials police relied on to obtain the production order against Vice.
"The open-court principle is a fundamental principle of the Canadian justice system," the association argues.
The Crown opposes the intervention applications but has yet to file its materials.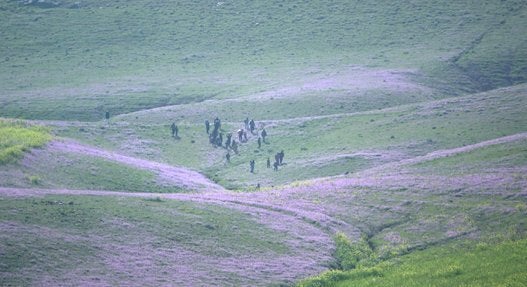 Women and children freed from ISIS