Surveillance footage showing the moment a homemade bomb exploded in a busy Manhattan neighbourhood has been released.
Cameras from Orangetheory Fitness captured people running away from the blast area in Chelsea around 8:30 on Saturday night.
The explosion went off inside a dumpster on West 23rd, in between Sixth and Seventh Ave, authorities said. A second device was also found nearby three hours later.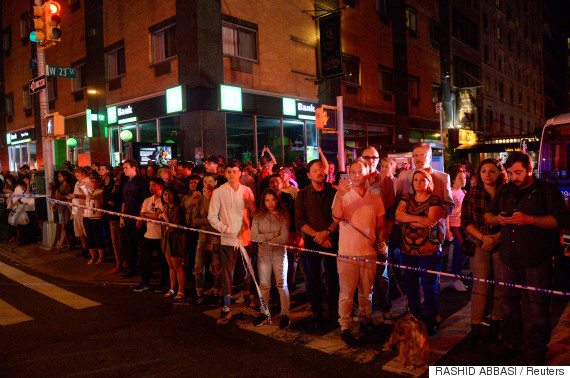 Onlookers stand behind a police cordon near the site of an explosion in the Chelsea neighbourhood of Manhattan, New York City on Sept. 17. (Photo: Rashid Umar Abbasi/Reuters)
Twenty-nine people were treated for injuries related to the blast. They have all since been released from hospital.
Officials have not drawn links to any international terror group, but New York Gov. Andrew Cuomo said the incident is certainly an act of terror.
"A bomb going off is, generically, linked to terrorist activity. And that's how we're going to prosecute it," he said on Sunday.
An investigation has been launched to determine the motive and suspect behind the explosion as well as the second, undetonated device.
With previous files