This race had a family photo finish.
At the World Triathlon Series final in Mexico on Sunday, British triathlete Jonny Brownlee was in the lead.
His brother Alistair followed behind in third place, according to The Guardian. It seemed like a Brownlee victory was inevitable.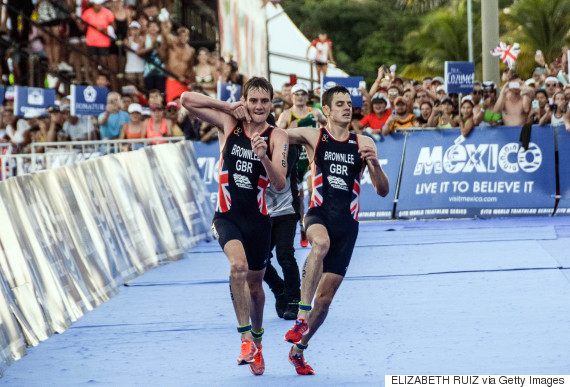 British athlete Alistair Brownlee, left, helps his brother Jonathan Brownlee, right, before crossing the line during the ITU World Triathlon Championships 2016 in Mexico. (Photo: Elizabeth Ruiz/AFP/Getty Images)
But when Jonny went into the final kilometre of the 10-km race, the heat and humidity took their toll. The 26-year-old appeared dazed and began weaving his way to the sidelines.
Instead of chasing first place, 28-year-old Alistair rushed to Jonny's aid, putting his younger brother's arm around him and helping him to the finish line. (Watch the amazing finish in the video above.)
Jonny collapsed right after crossing the finish line. But he's doing just fine now:
Not how I wanted to end the season, but gave it everything. Thanks @AliBrownleetri, your loyalty is incredible pic.twitter.com/6uG4QiIgfS

— Jonathan Brownlee (@jonny_brownlee) September 19, 2016
Alistair told the BBC that it was "a natural human reaction" to help his brother, and added that he would have done the same for anyone else.
Still, he says he wished "the flippin' idiot had paced it right and crossed the finish line first."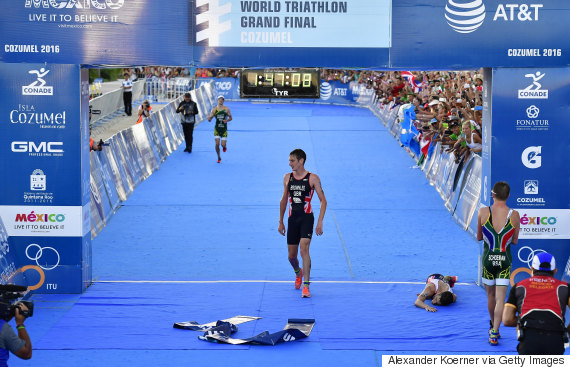 Alistair Brownlee, centre, stops after crossing the finish line at the World Triathlon Series final while his brother, Jonathan, lies on the ground after collapsing. (Photo: Alexander Koerner/Getty Images)
South African Henri Schoeman ended up in first place, but he told the International Triathlon Union the Brownlee brothers' finish overshadowed his win.
This isn't the brothers' first dramatic finish to a race. According to the BBC, Alistair broke away from his brother halfway in the men's triathlon at the Rio Olympic Games to win a gold medal, while Jonny scored silver.
Also on HuffPost
The World's Best Marathons