LOS ANGELES -- Not to be outdone by Ellen DeGeneres, who ordered pizza for the Academy Awards audience when she hosted in 2014, Jimmy Kimmel provided food for Emmy Awards crowd Sunday.
During the second hour of Sunday's ceremony, Kimmel announced that his mother had made 7,000 peanut butter and jelly sandwiches for Emmy guests. The young stars from the Netflix hit "Stranger Things" rode bikes through the Microsoft Theater, handing out lunch bags.
And the award for biggest loser at the #Emmys goes to... Matt Damon pic.twitter.com/oS1k9elgnF

— Jimmy Kimmel (@jimmykimmel) September 19, 2016
Presenter Taraji P. Henson and winner Kate McKinnon were among those who grabbed a bag. "Modern Family" star Sarah Hyland posted a selfie with her sandwich on Instagram, while co-star Ariel Winter showed off the handwritten note from Kimmel's mom that was in her lunch bag.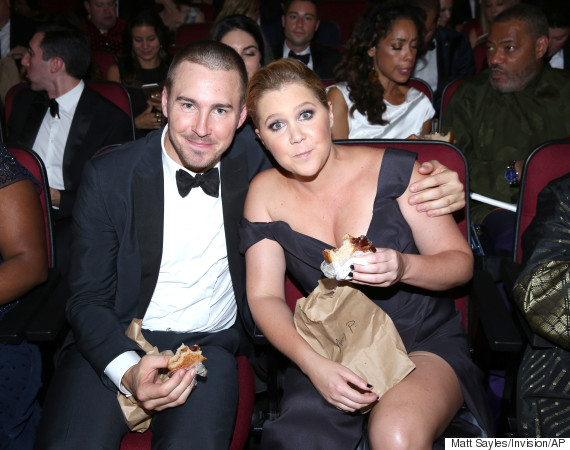 Ben Hanisch, left, and Amy Schumer eat a peanut butter and jelly sandwich in the audience at Emmy Awards on Sunday, Sept. 18, 2016. (Photo by Matt Sayles/Invision for the Television Academy/AP Images)
Kimmel said he had some gluten-free options available, but he bid farewell to anyone with peanut allergies, joking that he was only able to afford one EpiPen.
As the show went to commercial, a voice came over the loudspeaker in the theatre, warning that all the lunch bags actually contained both peanuts and gluten.
Also on HuffPost