Robby Heil has been the water boy for his high school's football team for years but on Friday it was his time to shine on the field.
The Michigan teen, who has Down syndrome, stepped onto the green alongside his Novi High School teammates after a timeout in a game against South Lyon, according to NBC.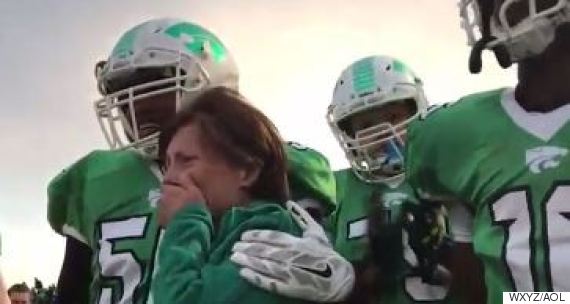 Robby's mother, Debbie, had no idea what was about to unfold on the field. (Screengrab via WXYZ/AOL)
Once he had the ball from the quarterback, Robby ran and scored a glorious touchdown as his teammates rallied behind him. Within seconds, he was surrounded by cheering players from both teams.
Watch the video embedded above for the magical moment.
'I dropped to the ground'
WXYZ reports Robby's mother Debbie, who has terminal bone cancer, had no idea what was going to go down. Judging from her reaction, Robby's play was a total win.
Check out Novi High School's Robby Heil Touchdown Run on @Hudl https://t.co/2oMCt3nJrj #hudl @TheD_Zone

— Jeff Burnside (@CoachBurnside) September 18, 2016
"I dropped to the ground because I was so emotional when I saw him make that touchdown," Debbie told WXYZ.
ABC News reports the team's head coach, Jeff Burnside, planned the touching moment. He said the coach for the opposing team was "was immediately all for it" when Burnside pitched the idea.
"The sportsmanship from both sides was just awesome," Burnside told the network. "Their coaches were in tears, our coaches were in tears, their stands also had signs with Robby's numbers up in the stands."
Also on HuffPost
Kids With Down Syndrome In Everyday Life