OTTAWA — It is in Canada's interest to play a leadership role in United Nations peacekeeping, former military commander Romeo Dallaire said Monday even as he delivered a pointed critique of how the world body runs such missions.
The retired senator and lieutenant-general, who famously led the UN's ill-fated mission in Rwanda more than 20 years ago, told a Senate committee that the world has failed to act on some much-needed reforms when it comes to peacekeeping.
The problems he cited include poor mission planning and the appointment of unqualified military officers and diplomats to lead missions and diplomatic efforts.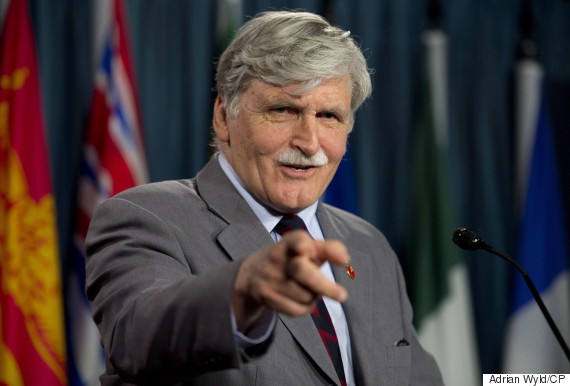 Former senator Romeo Dallaire speaks at a news conference on Parliament Hill on May 28, 2014. (Photo: Adrian Wyld/CP)
"There are regions where you've got four or five missions right beside each other that could be reinforcing each other that have no capability of doing that," Dallaire said. "That's why the guys don't like to work with the UN."
But Dallaire said the many conflicts the UN is trying to manage will have an impact on Canada in the form of refugee crises, pandemics and terrorism, and that only by returning to peacekeeping can Canada help strengthen the world body's ability to respond.
"Those reforms are critical to the future. And I think you can move the yardsticks," he said after the meeting.
"Don't go away from the UN. On the contrary, get into entrails of the damn thing and start pulling out some of that stuff."
Tories push for full debate, vote
Dallaire's appearance before the Senate committee coincided with the return of Parliament from the summer break. Opposition critics wasted no time criticizing the Liberal government's plan to commit up to 600 troops to at least one still-unannounced peacekeeping mission.
Interim Conservative leader Rona Ambrose accused the government of using Canadian military personnel as "pawns" in its push for a UN Security Council seat, and demanded any future deployment be subject to a debate and vote in the House of Commons.
Defence Minister Harjit Sajjan said the government would "welcome a healthy debate," but stopped short of saying whether there would be a vote.
"We fully understand the complexity of peace operations, but we cannot be an island of stability in an ocean of turmoil. Canada needs to do its part," he said. "We are going to take a thorough effort before we put all the facts together and before we have a thorough debate on this."
Also on HuffPost
Trudeau At The United Nations