Larry MacDougal/CP
CALGARY — The driver of a Calgary Transit train has been seriously injured in a derailment that happened during the morning rush.
The C-train derailed at the Tuscany station at about 7 a.m.
The above-ground station is at the end of the LRT system's northwest line.
An early report from the fire department said five other people were on the train.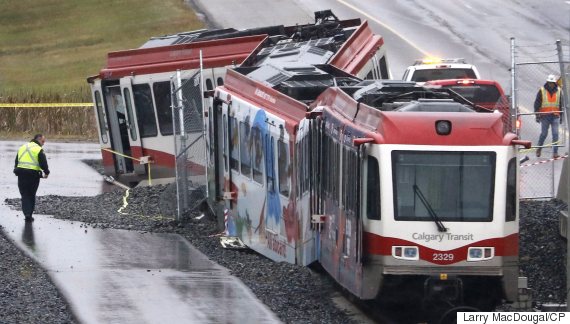 Crews attend the scene of an LRT accident and derailment near Tuscany station in northwest Calgary. (Photo: Larry MacDougal/CP)
But a release from the City of Calgary says there were two passengers, who were assessed at the scene.
Carol Henke with the Calgary fire department says the train failed to stop at the end of the line and ran off the rails.
"We don't know why at this point, but the C-Train did not stop at the designated stop and kept going and the track ends there,'' Henke said. "The C-Train derailed because the track ended.
"It was the end of the line. It was the last stop northbound on that LRT line.''
Trains still operating at station, this is after station #yyc @yyctransport @RRROCA1 @Tuscany_Calgary pic.twitter.com/mZvNkWU03U

— Ward Sutherland (@Ward4Ward1) September 20, 2016
Henke said firefighters needed hydraulic equipment to remove the driver from the wreckage.
"The driver was trapped and needed to be extricated by fire crews.''
EMS tweeted that the patient was taken to hospital in serious condition.
Also on HuffPost:
Oil And Fuel Train Derailments