OTTAWA — The Liberal government is considering whether to send unarmed observers to help monitor Colombia's historic peace agreement. Defence Minister Harjit Sajjan's office confirmed Tuesday that Colombia is one of the options being considered as the government decides where to deploy upwards of 600 Canadian peacekeepers. Most of the other possible missions are in Africa.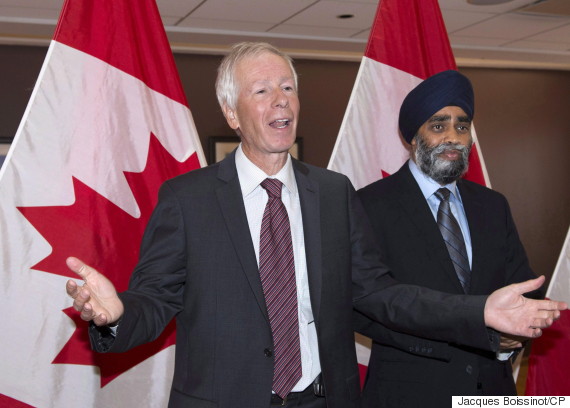 Foreign Affairs Minister Stephane Dion and Defence Minister Harjit Sajjan speak to media in Saguenay Quebec on Aug. 26, 2016. (Photo: Jacques Boissinot/CP)
Sources say Canadian officials have been in contact with the UN looking for more information about the observer mission in Colombia, including potential security hazards. The Colombian government and Revolutionary Armed Forces of Colombia, the guerrilla group widely known as FARC, agreed to a peace agreement last month, ending 50 years of fighting. Foreign Affairs Minister Stephane Dion, who will commit $25 million to UN-led conflict mediation, negotiation and reconstruction efforts on Wednesday, is scheduled to attend a ceremony on Sept. 26 in which the two sides will sign the deal.
Unarmed UN observers heading to country
Colombians will then vote on the agreement in a plebiscite on Oct. 2. If all goes as expected, the United Nations will begin deploying 450 unarmed observers to around 40 locations around Colombia soon after to begin monitoring implementation of the agreement. The one-year monitoring mission would involve ensuring both sides adhere to the peace deal as FARC forces turn over their weapons and begin the process of reintegration into Colombian society. In contrast, many of the UN peacekeeping missions being contemplated by the Liberals in Africa, such as Mali or South Sudan, would involve operating in active conflict zones. Sajjan has said a core focus for Canadian troops would be protecting civilians — by force if necessary.
Colombian mission not without risks
But the Colombian mission isn't without its risks. The peace deal does not include a smaller guerrilla group, the National Liberation Army, or ELN. Organized crime groups also continue to operate within the country. In an interview, Colombian ambassador Nicolas Lloreda praised the strong ties that have developed between the two countries in recent years, including a free trade agreement, close collaboration at the UN and millions of dollars in Canadian aid. On Sunday, Canada pledged an additional $33.8 million to help demining and reconstruction efforts in the country. But Lloreda said any decision on a Canadian observer mission rests with the Liberal government and the UN.
'Excellent relationship with Canada'
"We have an excellent relationship with Canada in every aspect," he said. "But we've decided that the best thing is to go through the United Nations at this point and it should be up to the UN to decide who has the capability and which country really brings something positive to the table." The peace deal is the result of four years of talks between the Colombian government and FARC guerrillas. It comes after 52 years of fierce fighting between the government and Marxist group which has left an estimated 220,000 people dead and millions more displaced. Many have welcomed the deal as a historic breakthrough to end the longest conflict in the Americas. But the agreement has also proven to be controversial, with concerns that perpetrators of mass atrocities and serious crimes on both sides will escape without any repercussions.
Also on HuffPost
Current MPs With Military Experience (2016)