Toronto: a city where one block can make a $41,000 difference when it comes to housing.
That's according to real estate brokerage TheRedPin.
The company crunched home sales in 24 different intersections in the Six for a year-long period. It found that a walk from Yonge to Bay Street could mean you'd be looking at condos worth tens of thousands more.
TheRedPin also found that the selling prices of one-bedroom condos around the city's major intersections averaged $433,823, with a median selling price of $413,912.
Two-bedroom condos cost far more, averaging $740,867, with a median price of $638,491.
The most expensive downtown intersection was at Bloor and Avenue — an upscale shopping area — where one-bedroom units averaged $611,327. Two-bedroom condos cost $1,379,140.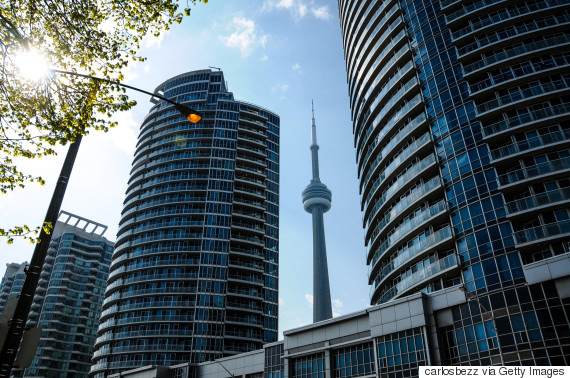 Condos flank the CN Tower in Toronto. (Photo: Carlosbezz/Getty Images)
Prices were based on sales that happened between August 2015 and August 2016.
The point of the study was to give customers another way of looking at condo prices, aside from the Multiple Listing Service (MLS).
That service has different boundaries than if you look at values by intersection, TheRedPin broker Tarik Gidamy told The Toronto Star.
Generally, the further you walked from the downtown core either east or west, the more affordable it was, he said.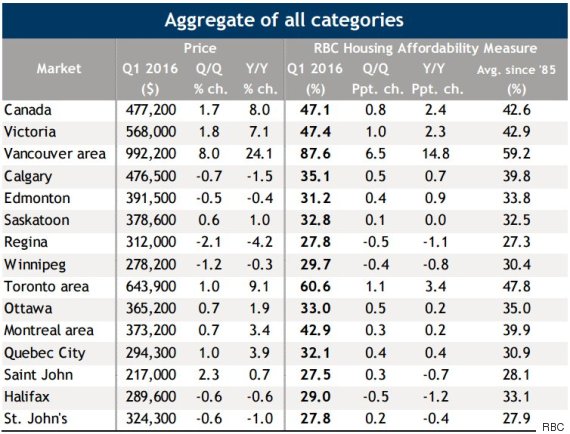 The Toronto region is currently facing an affordability crisis, with home prices taking up 60.6 per cent of incomes in the area, according to RBC's Housing Affordabilty Index from June.
Overall, a Toronto-area apartment takes up 36.5 per cent of one's income.