The top knot: a hairstyle you love but can't seem to get right.
Look, we get it. When it comes to creating the perfect messy bun, it's literally the hardest thing to achieve. You've lost countless hours of sleep and have broken at least one hundred bobby pins in trying to get the look.
The top knot was one of the hottest hairstyles of the summer, and it's showing no signs of slowing down. Whether it's fully put up or in a half-up, half-down style, we're expecting to see it effortlessly adapted well into the fall season. So with that, it's probably time to learn how to create that perfect top knot, right?
Right!

In the video above, celebrity hair guru Jen Atkin (a.k.a. hairstylist to the Kardashian/Jenner clan) teams up with Teen Vogue to show you all the steps in getting the coveted "quick and pretty" top knot look.
And here's the steps you'll want to follow:
1. Wave Spray
Begin by grabbing your favourite wave spray (Jen uses OUAI texture spray in the video) and spritz your locks. This will give your tresses that beachy look.
2. Diffuse
Diffusing hair is an important step to creating curl formation and definition.
3. Blow dry and comb
Comb through the hair while blowing dry locks. Jen uses the new Dyson Supersonic hair dryer.
4, Curl
Grab a curling iron or hair wand and make soft curls. This will give your hair volume and make it easier to work with when creating a bun. Make sure to break up the curls so hair isn't left flat.
5. Back comb
It's all about that height, baby. Back comb the crown of your hair.
6. Pull out pieces of hair
Essential for the messy component of the knot.
7. Twist
Grab your section of hair and twist. This is the most important step.
8. Add dimension
Give your top knot some dimension by gently pulling out pieces of hair.
And there you have it!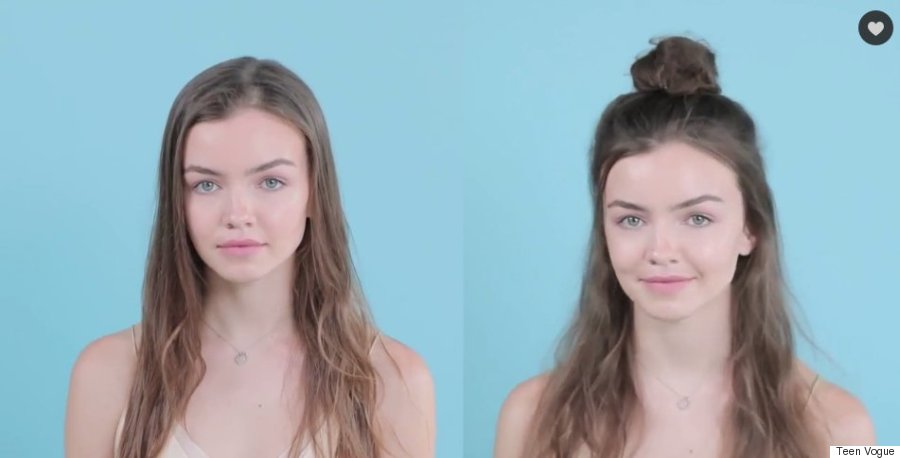 Watch the video above to see all the top steps in motion!
Follow Huffington Post Canada Style on Pinterest, Facebook and Twitter!
Also on HuffPost