Edmonton is the first city in Canada to test a new type of technology allowing cars to "talk" to objects including stop signs or traffic lights.
With project ACTIVE-AURORA, scientists at the University of Alberta's Centre for Smart Transportation are using wireless devices to improve road safety and lessen congestion.
"This technology is going to revolutionize the way we think and move. It will allow vehicles to be able to communicate information to each other and talk to the infrastructure," civil engineering professor Karim El-Basyouny said in a release last week.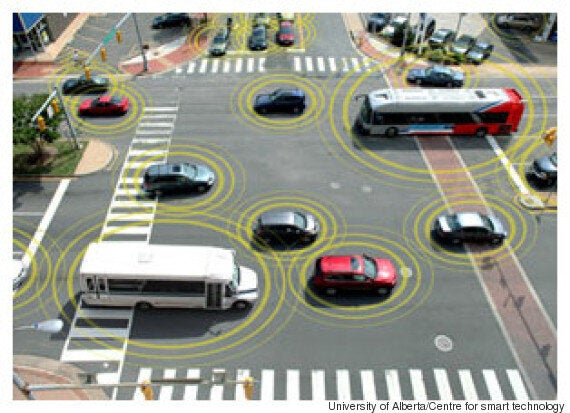 The University of Alberta is testing a project that would let cars communicate with each other. (University of Alberta/Centre for Smart Transportation)
The connected vehicles will be able to warn drivers of pedestrians, let them know if they're following a vehicle too closely. The connected cars will also be able to alert drivers when a green light is about to turn red.
Right now, the project is being tested on three roads: Whitemud Drive, Anthony Henday Drive and 23 Ave.
One of the reasons Edmonton was chosen for the project was because of Alberta's chilly winter climate. Road salt or freeze and thaw cycles can impact how traffic behaves.
The project will cost about $2.4 million, and is being funded by the municipal, provincial and federal governments.
Minister of Transport Marc Garneau said as an engineer, he's excited about the initiative's possibilities.
"This innovative technology has the potential to make Canada's transportation system safer, more efficient, and secure for passenger and commercial traffic throughout the country," Garneau said in a statement.