The City of Edmonton heads to court Friday to defend its decision to remove controversial ads from city buses in 2013.
The ads were posted by the New York-based American Freedom Defense Initiative (AFDI).
The poster read "Muslim Girls Honour Killed By Their Families. Is Your Family Threatening You? Is There a Fatwa on Your Head?" with the acronym SIOA or "Stop the Islamization of America" at the bottom. It featured photos of seven women that had died from incidents of domestic violence.
The AFDI has been called an extremist, anti-Muslim hate group, CNN reported.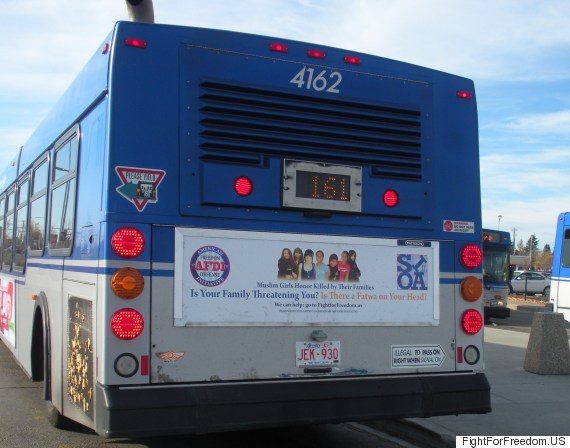 This ad was removed from Edmonton transit in 2013. (Photo: FightforFreedom.us)
Edmonton residents, including former city councillor Amarjeet Sohi, argued for the ads to be taken down, suggesting they promoted harmful stereotypes and hatred towards the Muslim community.
The AFDI argues removing the ads violated the Canadian Charter of Rights and Freedoms.
"What is controversial about trying to help girls?" AFDI head Pamela Gellar told CBC News.
However, the city argues the group broke rules that state that ads need to be truthful, fair and accurate.
"The complaints the city received about the ads related to a breach in these clauses (in particular negatively singling out one particular religious group) and therefore warranted the removal of the ads," Cheryl Oxford, a city spokesperson, wrote to Global News.
Also on HuffPost
11 Sexist Advertising Fails