New dad Adam Levine shared the first photo of his baby girl on Saturday and, of course, she's just as cute as we imagined!
In the adorable black-and-white snap, newborn Dusty Rose is seen sleeping soundly on Levine's bare chest. Fittingly, the little one's head rests right beside a tattooed rose.
The Maroon 5 frontman and his wife, Behati Prinsloo, welcomed their daughter last Wednesday. Prinsloo also shared the same photo of their little one on Instagram over the weekend. "Words can't describe," she wrote, along with Dusty's name and birth date.
Following their daughter's birth, a source told E! News: "Adam was in the delivery room holding Behati's hands. They both cried when she was born. She is beautiful. She looks like Behati."
On Instagram, fans agreed that the couple's baby girl is just beautiful. "OH MY GOD. SHE is so Damn precious! Congrats to you both!" one wrote. "She's gonna be one beautiful girl when she grows up!"
Another simply said: "She's perfect!"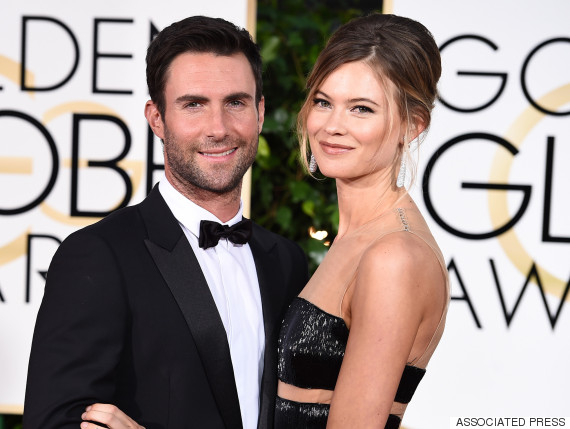 Levine and Prinsloo at the 72nd annual Golden Globe Awards in Beverly Hills, California in 2015.
Dusty Rose is the first child for Levine and his wife, who have been married since 2014.
Both Levine and Prinsloo have previously stated that they want a big family. "I want to have 100 kids," the 37-year-old singer once said. "I want to have more kids than would be socially responsible."
Prinsloo reiterated her husband's sentiments earlier this year when she told Obsev's The Lowdown, "You know, I've always, since a little girl always wanted a family, a big family. I'm an only child so I wanted like, ten kids for sure."
We're so glad we have many more little Levines to look forward to!