Canada's economy is "stuck in neutral" because our business leaders aren't taking enough risks, a new report from Deloitte says.
Almost 90 per cent of Canadian companies lack boldness, the international firm found after interviewing 1,200 business leaders across the country. Bold companies outpace their rivals and contribute more to the economy as a whole, the report said.
Canada's cautious culture
Canada has a "deep cultural aversion to risk," Deloitte charged, citing its 2011 study that found Canadian companies take fewer chances than their American counterparts.
"Courageous businesses are the high-flyers propelling the Canadian economy forward," Frank Vettese, the company's chief executive, said in a press release. "When they reach peak performance, we all benefit."
The report defined courage in five ways: challenging the status quo, taking risks, following a moral compass, embodying values, and seeking diverse perspectives.
Brave moves included TD's longstanding commitment to the LGBTQ community and Paramount Fine Foods' promise to hire Syrian refugees, Deloitte said.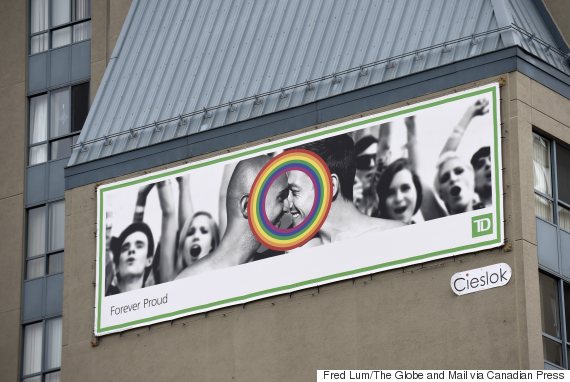 A TD bank billboard on the side of a building is shown in Toronto on June 25, 2014 ahead of WorldPride 2014. (Photo: Fred Lum/The Globe and Mail via Canadian Press)
The second quarter of 2016 saw Canada's worst economic performance in seven years. Real GDP fell 1.6 per cent — the most since the second quarter of 2009, when the world was reeling from a financial crisis.
Despite the economy's improvement since then, Canada's companies are still too hesitant to invest, Deloitte said. They also spend less on research and development and employee training than their OECD peers.
"Taken together, these issues are a hazard to Canada's future prosperity and economic growth," Deloitte's report said. "As a country, we cannot be content with simply surviving the recession—we must move forward, stronger and better prepared than ever, toward an uncertain future."