Many people would be nervous to meet the Duke and Duchess of Cambridge, and B.C. Premier Christy Clark's son was one of them.
Hamish Marissen-Clark was with his mom to welcome Will and Kate to Victoria, B.C., at the start of their Canadian royal tour on Saturday.
But the teen didn't know where to put his hands, so he stuck them in his pockets, he told Global B.C.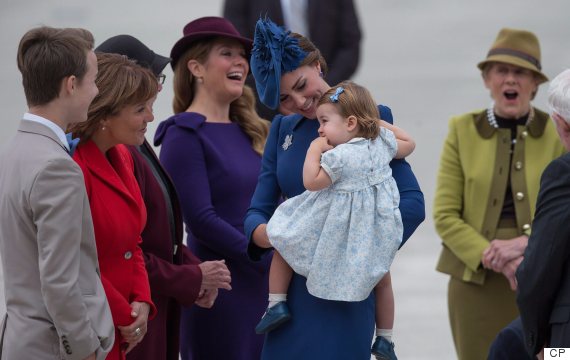 B.C. Premier Christy Clark, her son Hamish Marissen-Clark, Sophie Gregoire Trudeau and others welcome the Duke and Duchess of Cambridge and their family to Victoria, B.C. on Saturday, September 24. (Photo: Darryl Dyck/The Canadian Press)
And social media didn't react kindly, criticizing Clark for not briefing her son on etiquette.
"Y'all forgot to brief Hamish on #RESPECT and keeping his hands out of his pockets," wrote Katelyn Miskulin on Twitter.
@christyclarkbc y'all forgot to brief Hamish on #RESPECT and keeping his hands out of his pockets. #RoyalVisitCanada


September 25, 2016
Clark's Hamish didn't get the protocol lecture about hands in pockets. #willandkate#BCpoli#royalprotocolhttps://t.co/PqrUjNdUyi

— Vickie Jo Morris (@vickiejomorris) September 25, 2016
Marissen-Clark opened up about the reaction in an interview with Global.
"Social media was mad at me for it, I felt really bad," he said.
Clark herself also acknowledged that her son got "roasted" online.
Others noted that he didn't seem very interested.
@vickiejomorris@justine_hunter he also did not get the memo "look interested and be attentive"

— Martha Burton (@MarthaABurton) September 25, 2016
But the teen gushed about the meeting in the Global interview, calling it "incredible."
Some on Twitter urged critics to leave the teen alone.
@BhupinderHundal@GlobalBC the dirty ugly nasty part of social media. He was probably very nervous and didn't know.better. He's also a kid

— Scott Keenan (@scooteroo29) September 26, 2016
While there is a code for how to act around the Royal Family, sticking your hands in your pockets isn't explicitly forbidden.
A federal government etiquette guide does say that those meeting the royals can choose if they want to bow, curtsy or shake hands.
You also shouldn't address them as "Will" or "Kate" — instead, say "Your Royal Highness" on first reference and "Sir" or "Ma'am" as the conversation continues.
CTV royal commentator Richard Berthelsen also shared some etiquette tips with CTV News, including one obvious one — just be polite.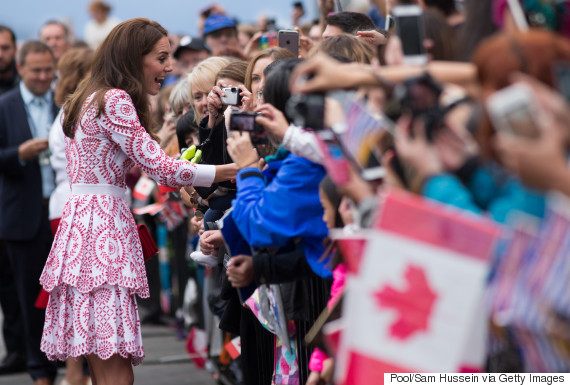 Catherine, Duchess of Cambridge meets well wishers at Jack Poole Plaza on September 25 in Vancouver, B.C. (Photo: Pool/Sam Hussein/WireImage)
He told the news site that while it's now common for members of the Royal Family to have informal conversations with people they meet, ordinary folks used to have to wait until they were spoken to first.
WATCH: Etiquette Tips If You Run Into The Royals
If a royal asks you a question, you can ask them one in return, as long as it's polite.
He also said that both selfies and fancy gifts are no-nos. Selfies take too long to frame and big presents are both embarrassing and not needed — the children already have enough toys.
Will and Kate's three-year-old, George, also made headlines for his reaction to meeting someone new when the family touched down in Victoria.
wow prince george is cold as ice pic.twitter.com/9x0eu6FXYZ

— David Mack (@davidmackau) September 25, 2016
Prime Minister Justin Trudeau was snubbed multiple times when he tried to make friends with the preschooler. A high five, a low five and a handshake were all ignored.
Meeting strangers is hard, OK?