Hear ye, hear ye, skunks of the world. A hero walks among you.
On Monday, Mike MacMillan was driving from his home in Uptergrove, Ont. to meet the mayor of Barrie, Ont.
But that wouldn't be the only big meeting of his day.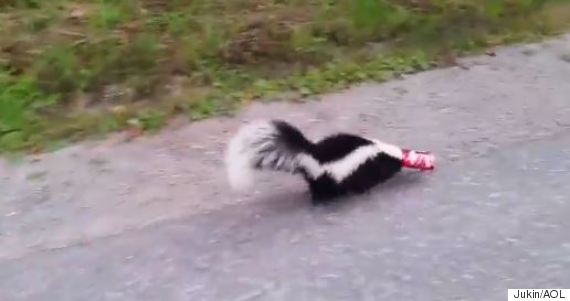 Mike MacMillan saved this skunk from its Coke can hell. (Photo: Jukin/AOL)
MacMillan would end up doing what described as "the bravest thing in my life."
He would liberate a skunk from a Coke can — and film himself doing it. (Watch the rescue.)
The poor animal had gotten its head stuck inside the aluminum prison and was running around on the road.
MacMillan told The Huffington Post Canada that he thinks the can was used to catch fat drippings from a grill, which led the skunk to think there was food inside.
"I was about to drive off when he almost got hit by another car," said MacMillan, who works as a manager for a concrete and fuel company.
"I couldn't live with myself thinking of this guy dying a slow death with a can on his head."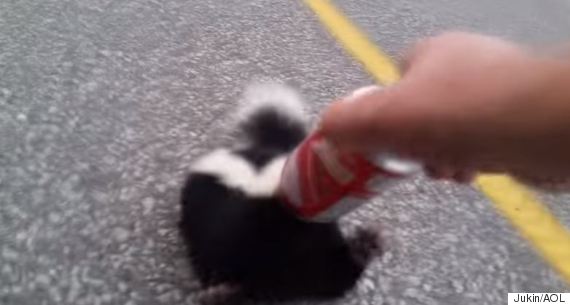 Mike MacMillan said the can was on the skunk "really good." (Photo: Jukin/AOL)
"I assumed that I was going to get sprayed and I thought 'Oh well, this is what I'm going to have to do today.'"
He filmed the rescue mission so that, if his fate was to be sprayed by a skunk, he had some evidence to show his wife and kids.
"Skunk, please don't spray me," MacMillan says in the video. "Please don't spray me. I'm not going to hurt you."
"Skunk, please don't spray me."
The can was "on there really good," but after around 30 seconds of pulling, the skunk was free and runs away.
MacMillan's video has been shared more than 11,000 times on Facebook and viewed millions times on YouTube. Several international media outlets including The Washington Post and The Independent have picked up his story.
He says he's received messages from all over the world, thanking him for saving the skunk.
The animal itself didn't thank its saviour— the gall on this thing — but at least it didn't engulf him with a horrific smell.
Also on HuffPost