Provincial and territorial premiers have written to Justin Trudeau to seek a firm commitment from the prime minister for a meeting on health-care funding before the first ministers' meet to discuss climate change this fall.
In the letter obtained by CBC News, the premiers say if a meeting on health care is not possible by mid-December, they want the prime minister to commit to extending increased health-care transfers for at least another year.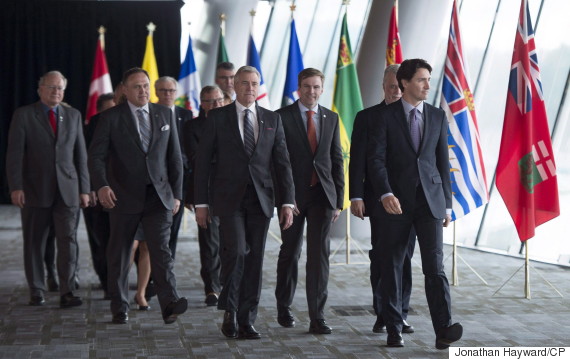 Prime Minister Justin Trudeau leads Canada's premiers to a news conference during the First Ministers Meeting in Vancouver, B.C. on March 3, 2016. (Photo: Jonathan Hayward/CP)
"In the spirit of collaboration and to reflect the importance of this issue, we believe that this meeting should be confirmed prior to the first ministers' meeting on climate change and clean growth," Yukon Premier Darrell Pasloski wrote on the premiers' behalf earlier this month.
Trudeau and the premiers are due to meet this fall to finalize plans for reducing Canada's greenhouse gas emissions.
In his letter, Pasloski says premiers would also like to hold a meeting "solely dedicated to long-term health-care financing before mid-December."
The premiers publicly asked for a meeting with Trudeau in July, but have so far failed to secure a commitment from the prime minister.
The premiers are unhappy with a planned decrease in the annual increase attached to the Canada Health Transfer (CHT), the mechanism through which the federal government provides provincial and territorial governments with funding for health care.
Previously set at six per cent by Paul Martin's Liberal government, the rate was scheduled by Stephen Harper's Conservative government to decrease to a minimum of three per cent next year.
"If a meeting on long-term health-care financing is not possible within the proposed timeframe, we ask that you formally commit to postponing the entry into force of the proposed CHT changes for at least one year," Pasloski writes.
"This will give us the opportunity to reach an agreement that reflects intergovernmental collaboration and is respectful of [provincial and territorial] jurisdiction, which we believe will be to the benefit of all Canadians the Canadian federation."
Also on HuffPost
Current MPs Who Were Provincial Ministers