Playboy has always been more than just a centrefold.
The magazine has contained interviews with notable public figures basically since its inception, with everyone from Martin Luther King Jr. to John Lennon featured in an issue.
But even though the publication ditched nude images of women last fall, that's still what comes to mind when we hear the word.
Which is why one of their new interviews is such a big deal.
As part of their October 2016 "Renegades" issue, the mag interviewed 22-year-old journalist Noor Tagouri, the first hijabi woman (that we know of) who has appeared in the magazine.
The on-air reporter for the Newsy video news network is "a badass activist with a passion for demanding change and asking the right questions, accompanied by beauty-ad-campaign looks," according to writer Anna del Gaizo.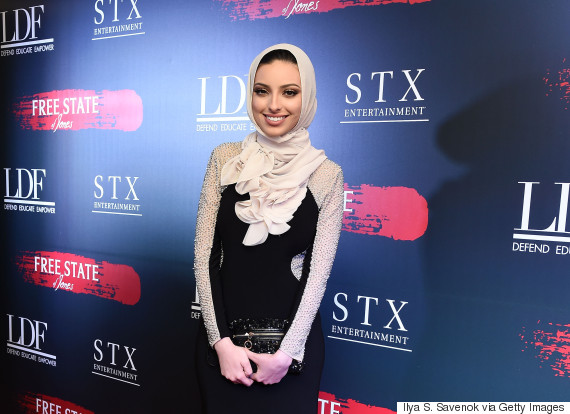 Producer Noor Tagouri attends the 'Free State Of Jones' New York Premiere at Paris Theater on June 22 in New York City. (Photo: Ilya S. Savenok/Getty Images)
But instead of objectifying her, which the publication has often done with women, Tagouri was given a platform to talk about her passion, which is basically to tell powerful stories while proving that Muslim women can do whatever they want.
"I may dress a little different — I'm a reporter who happens to wear a head scarf and I live in my hoodie — but being a story teller, motivational speaker, entrepreneur and unapologetically myself has opened so many doors for thousands of people."
The super-badass shoot that accompanies Tagouri's interview shows her on a sawhorse with an American flag painted on metal siding in the background.
The "Renegades" issue profiles eight women and men who "aren't afraid to break the rules," according to a press release from Playboy.
Comedian Ali Wong, Against Me! lead singer Laura Jane Grace, and porn star Stoya were also profiled.
But while the magazine may be trying to rebrand itself as a sort of Vanity Fair or GQ, not everyone was pleased with the fact that a hijabi woman appeared in it.
I'm not upset over Noor Tagouri's interview or the purpose of what she did. I'm upset with the platform she chose Playboy is known for-

— spoopy meena 🎃👻 (@neemsayee) September 25, 2016
I don't know exactly how I feel about Noor Tagouri's Playboy feature but I do know that I am sick of Muslim boys speaking on hijab

— farwz (@farwzaz) September 26, 2016
I don't agree with @NTagouri appearing in a magazine that has unapologetically profited off the sexualisation and objectification of women.

— Lina - سيرين (@Lina_Serene) September 25, 2016
But many others defended her, including Muslim scholar Reza Aslan, who himself was interviewed for Playboy last year.
Muslims Should Praise Hijabi Journalist Noor Tagouri, Not Criticize Her https://t.co/yzsPxEXaHo

— Reza Aslan (@rezaaslan) September 28, 2016
@Playboy has interviewed high profile Muslims before. The double standard with @NTagouri is actually disgusting.

— Rajaa Elidrissi (@RajaaElidrissi) September 26, 2016
Tagouri said on Twitter that she was "honoured" to appear in the magazine.
It's here! I'm honored to share that @Playboy has named me a 2016 Renegade and has featured me in their piece!! https://t.co/Tc0LuwMPfB

— Noor Tagouri (@NTagouri) September 22, 2016
And if her comments to Playboy about ignoring Islamophobic comments are any indication — "I don't read or pay attention to any of it. It's just negative energy and unhealthy" — she'll probably ignore the controversy over her interview either. As she should.
Follow Huffington Post Canada Style on Pinterest, Facebook and Twitter!
Also on HuffPost
Celebrities Who Covered Playboy