It's October and that chilly, autumn breeze is starting to creep in. It means Halloween is coming up fast.
Calgary is known as the headquarters for Screamfest, Canada's biggest (and probably scariest) Halloween event. Its ever-changing selection of haunted houses is a blast, but if you're looking for something new this year, there are plenty of other ways to immerse yourself in the spirit of the season.
From the offbeat to the downright frightening, here are seven events worth checking out in and around Calgary this month:
1. Train of Terror
When: October 8 to 30
Where: Mossleigh, Alta.
This train ride is not for the faint of heart. Riders carefully maneuvre through haunted train cars as they move down the track. The lucky few who make it to the end find a Halloween party waiting for them on the other side.
2. Halloween Pairing Class
When: October 28
Where: Willow Park Wines and Spirits
Anyone who has ever unwound after Halloween with a glass of Chardonnay and their kid's trick-or-treating loot already knows that candy pairs nicely with the hard stuff, but this course makes it feel a little bit classier.
The experts at Willow Park will find the perfect pairing — wine, beer or cocktail — for traditional Halloween candies. Maybe candy corn will work really well with a gin and tonic.
3. Calgary Corn Maze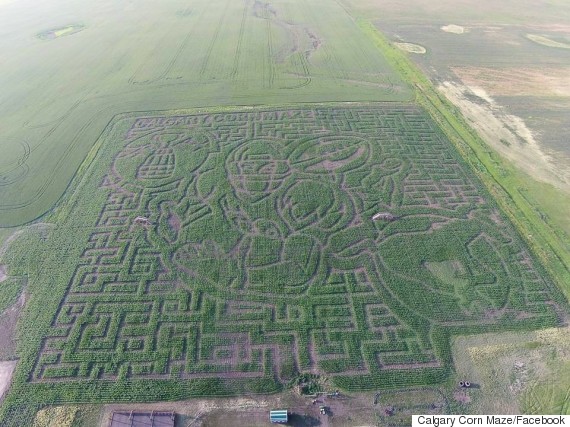 An aerial shot of the corn maze from July 2015. (Photo: Calgary Corn Maze and Fun Farm/Facebook)
When: Thursdays through Mondays
Where: Rockyview, Alta.
This is the perfect Halloween activity for the whole family. To make it a little scarier, head to the corn maze in the evening when visitors can navigate the 10-acre maze by flashlight.
4. Zombie Evasion Run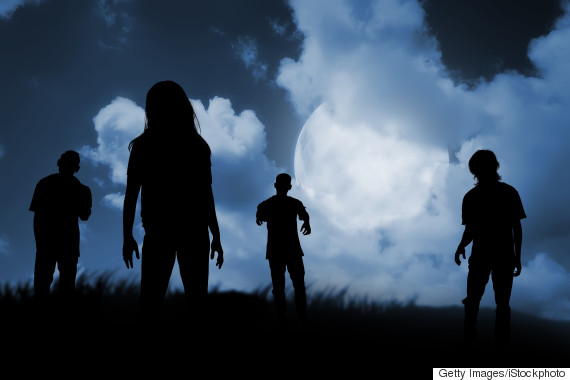 Run. Fast. (Photo: Getty)
When: October 22
Where: North Glenmore Park
What better motivation to stay fit than the threat of the hungry undead? Participants in the five-kilometre Zombie Evasion Run can either sign up as survivors or zombies. There's also a one-kilometre zombie dash for pint-sized members of the walking (or running) dead.
5. Hallow's Eve In The Village: Godric's Hollow
When: October 29
Where: East Village
Calgary's East Village is being transformed into the magical neighbourhood of Godric's Hollow from the Harry Potter series. The harvest market will have plenty of Halloween treats for sale.
6. The Alberta Ballet's 'Dracula'
When: October 27 to 29
Where: Jubilee Auditorium
The ballet's "Dracula" is much more operatic horror than B-movie kitsch (not that there's anything wrong with that). Internationally-renowned choreographer Sir Ben Stevenson is directing this production, paired with music by Franz Liszt.
7. The Coven
When: October 28 to 31
Where: Rocky Ridge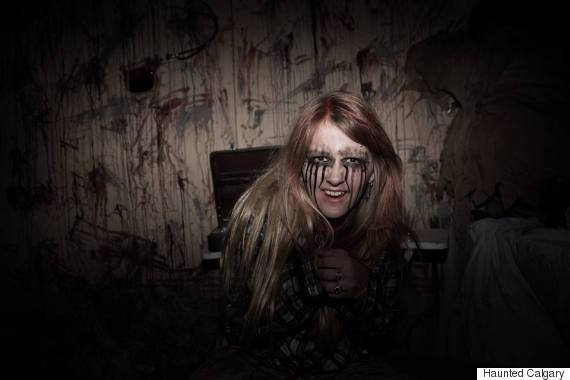 A volunteer welcomes visitors to The Coven. (Photo: Haunted Calgary)
Haunted Calgary's impressive volunteer-run haunted house is an October tradition for many and each year's iteration comes with an elaborate backstory. This year the northwest home will be transformed into Salem in 1692. Entry is by donation to two local charities.
Also on HuffPost
Eerie Alberta Activities For Halloween