ST. JOHN'S, N.L. — Defence Minister Harjit Sajjan says language used in an air cadet brochure that refers to girls' breasts as "developing bits" is "completely unacceptable" and offensive.
Sajjan issued a statement today after a parent complained about a leaflet handed out by the 510 Lions Royal Canadian Air Cadet Squadron in St. John's, N.L.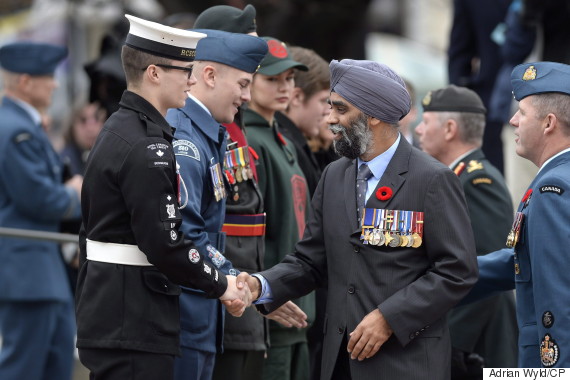 Defence Minister Harjit Singh Sajjan shakes hands with a cadet during the Remembrance Day ceremony in Ottawa on Nov. 11, 2015. (Photo: Adrian Wyld/CP)
According to CBC, the letter outlines appropriate dress for cadets and mentions the Four B's — "boobs, belly, bums, boxers."
The note goes on to say that girls should wear shirts that do not "reveal their developing bits."
Sajjan says the language is shaming to young women and offensive to him "as a person, as a father, and as the Minister of National Defence."
Gen. Jonathan Vance, chief of defence staff, also issued a statement calling the letter unacceptable and ordering staff to make sure cadet materials are respectful.
No one with the squadron was available for comment.
Also on HuffPost
Harjit Sajjan: Canada's 'Badass' Defence Minister