Most Quebecers don't want to revisit the question of independence any time soon, a new poll suggests.
Three-quarters of respondents to a survey conducted by the Angus Reid Institute in partnership with CBC agreed the province should "stay in Canada."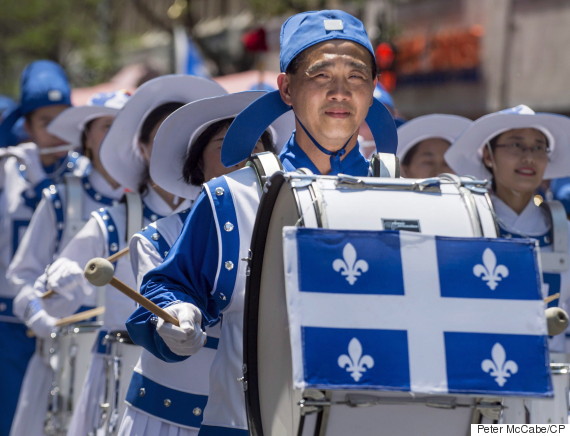 The Falun Dafa marching band performs at the Montreal Fete Nationale Parade on June 24, 2016. (Photo: Peter McCabe/CP)
In addition, 64 per cent agreed with the statement that "issue of Quebec sovereignty is settled, and Quebec will remain in Canada."
Across the country, 84 per cent of respondents said Quebec should stay in Canada, while 69 per cent agreed that the issue of sovereignty is settled.
Quebecers were, however, found to be more muted in terms of national pride.
A total of 31 per cent of Quebecers questioned said they were "very proud" to be Canadian and 31 per cent said they were "proud."
Canada-wide, 27 per cent of respondents said they were "very proud" while 52 per cent said they were "proud."
The results come only days ahead of the Parti Québécois leadership vote on Oct. 5. One of the more heated questions during the race has been when the party should hold a referendum if it gets back in power.
But only one candidate, Martine Ouellet, has committed to holding one in her first mandate if she's elected premier.
The results were part of a national survey exploring the values, beliefs, priorities and identity of Canadians.
The online poll was conducted between Sept. 6–12, 2016, among a representative randomized sample of 3,904 Canadian adults who are members of the Angus Reid Forum. There is no margin of error on online polls.
For comparison purposes only, a probability sample of this size would carry a margin of error of +/- 2.5 percentage points, 19 times out of 20.
Also on HuffPost