MONTREAL — Saskatchewan Premier Brad Wall, an outspoken critic of Liberal climate-change policy, lashed out Monday at Justin Trudeau for "unilaterally" imposing a carbon price on provinces and territories. With Canada's environment ministers gathering for day-long talks in Montreal, the prime minister kicked off a House of Commons debate on the Paris climate change accord with sudden, surprising news: Ottawa will set — and enforce, if necessary — a minimum price for carbon production.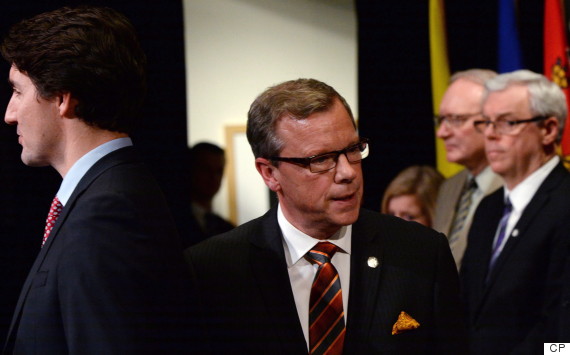 Saskatchewan Premier Brad Wall walks past Prime Minister Justin Trudeau during a press conference following the First Ministers meeting in Ottawa on Nov. 23, 2015. (Photo: Sean Kilpatrick/The Canadian Press)
The federal plan, a "floor price" of $10 a tonne in 2018 that increases to $50 a tonne by 2022, to be forced on the provinces if they don't co-operate, will hurt Saskatchewan the most, Wall said in a blistering statement. "The level of disrespect shown by the prime minister and his government today is stunning," Wall said. "This is a betrayal of the statements made by the prime minister in Vancouver this March. And this new tax will damage our economy." Wall said the carbon tax will siphon more than $2.5 billion from the province's economy once fully implemented, and cost the average family $1,250 a year. He called it "one of the largest national tax increases in Canadian history" and says Saskatchewan will investigate "all options" to mitigate the impact. Trudeau gave the provinces just two options for implementing the carbon price: either impose their own direct price on carbon that meets or exceeds the national floor price, as British Columbia has already done, or set up a cap and trade system, such as Ontario and Quebec are developing.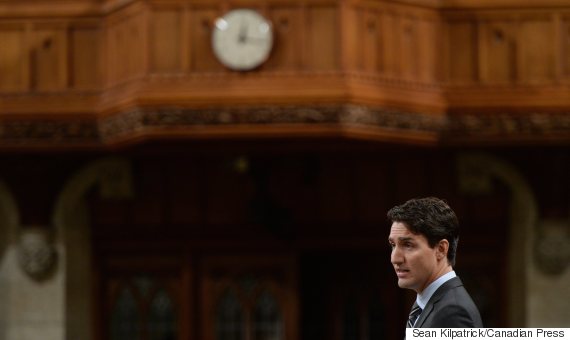 Prime Minister Justin Trudeau delivers a speech at the start of the Paris Agreement debate in the House of Commons on Oct. 3. (Photo: Sean Kilpatrick/The Canadian Press)
If any province or territory does not implement one of the two options by 2018, "the government of Canada will implement a price in that jurisdiction," Trudeau warned, adding that all revenue would be given to the province or territory in which it is generated. "There is no hiding from climate change," he told the Commons on Monday. "It is real and it is everywhere." "We cannot undo the last 10 years of inaction. What we can do is make a real and honest effort — today and every day — to protect the health of our environment, and with it, the health of all Canadians."
'The air was sucked out of the room'
The prime minister made the announcement as he kicked off a debate in the House of Commons over whether Canada should ratify the Paris accord on climate change. It came as provincial environment ministers were meeting in Montreal with federal counterpart Catherine McKenna to hash out an agreement over carbon pricing. "The air was sucked out of the room," Yukon's Currie Dixon said of Trudeau's announcement, calling it an odd way to build collaborative policy.
"It's not a good day for federal-provincial relations."
And Scott Moe, Saskatchewan's minister, said, "Many westerners will see this as 'national energy program 2.0." Moe later echoed his boss's words, suggesting Trudeau's "betrayal" could have lingering effects. "It's not a good day for federal-provincial relations," he said.  Nova Scotia's Margaret Miller said her province feels let down and surprised, saying it is already on track to make deep emissions cuts and doesn't understand Ottawa's move.   While Alberta's NDP government supports a common price on carbon across the country, Premier Rachel Notley served notice that she'll oppose the federal plan until she sees "serious concurrent progress" on the pipelines that her province needs to get its oil sands crude to tidewater.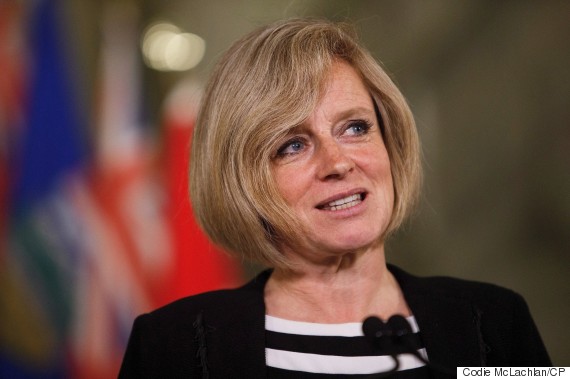 Alberta Premier Rachel Notley speaks to media at the Alberta Legislature Building in Edmonton on May 26. (Photo: Codie McLachlan/The Canadian Press)
"Albertans have contributed very generously for many years to national initiatives to help other regions address economic challenges," Notley said in a written statement. "What we are asking for now is that our landlock be broken, in one direction or another, so that we can get back on our feet." Quebec's David Heurtel, the chairman of the meeting, and Ontario's Glen Murray both welcomed the new federal policy, saying it fully recognizes their provincial jurisdiction.
Tory MP criticizes Trudeau's 'sledgehammer' approach
Trudeau argued that pricing carbon pollution will give Canada a "significant advantage" in building a cleaner economy, compel businesses to innovate to find ways to reduce their emissions and create potentially hundreds of thousands of "new and exciting" clean tech jobs. Conservative environment critic Ed Fast accused Trudeau of taking a "sledgehammer" to the provinces after having promised to usher in a new era of federal-provincial collaboration.
"We have the Conservative party thinking we go too far, we have the NDP thinking we're not going far enough."
NDP environment critic Linda Duncan and Green Party leader Elizabeth May said the plan falls short of what needs to be done, criticizing Trudeau for adopting the previous Harper government's targets for reducing emissions which the Liberals used to call weak and inadequate. "We have the Conservative party thinking we go too far, we have the NDP thinking we're not going far enough," Trudeau observed. "I think — like most Canadians will think — that we have got the right balance." — Follow @BCheadle on Twitter
Also on HuffPost
Countries Facing Greatest Climate Change Risks