Last Thursday, WestJet CEO Gregg Saretsky hailed his company's London flights as a success.
The next day, a flight from Toronto to London's Gatwick airport was cancelled.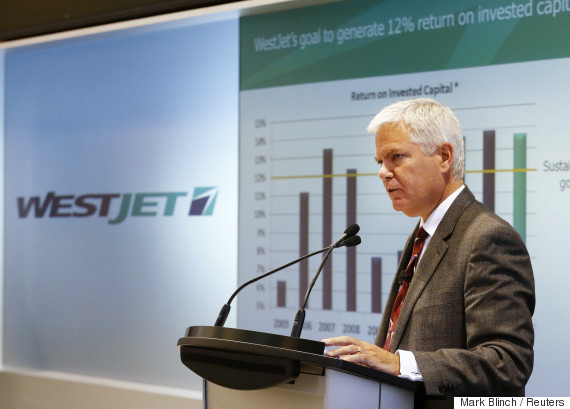 WestJet CEO Gregg Saretsky. (Photo: Mark Blinch/Reuters)
WestJet rescheduled the flight for Saturday, but that too was cancelled, CBC News reported. The airline cited maintenance issues. As many as 260 people were left stranded.
Three flights from Gatwick to Toronto on Oct. 1, 2 and 3 were cancelled as well.
WestJet spokesperson Lauren Stewart told The Huffington Post Canada that guests were given hotel and meal vouchers and re-scheduled the flight a third time for Sunday. It also added an additional flight that day.
But that extra trip ended up being oversold by about 59 guests due to a crew shortage, and any passengers left behind were placed on more flights Monday and Tuesday.
The airline nevertheless faced a deluge of complaints throughout the weekend:
Queue at service desk to get booked on next flight to London after flight cancelled. 24 hours till next flight home @WestJet pic.twitter.com/5MvQUJ0leQ

— Josephine Bailey (@jobailey904) October 2, 2016
@CBCNews CEO Gregg Saretsky's comment that London route is among most successful things @WestJet done is sounding more ridiculous every day pic.twitter.com/GcloBTl9Id

— ACErbic (@TheOGAce) October 3, 2016
@westjet RE: London - Toronto moving a flight by 5 hours is not acceptable. What is the unexpected event?

— Joe McPhee (@JoeBMcPhee) October 2, 2016
@WestJet so cancelled flight from London to Toronto tomrw but no1 in yr offices to speak to. Alternative offered no help due to connection.

— Rob Solway (@robsolway) October 2, 2016
@WestJet what's with the lack of notification of our cancelled flight from London to Toronto?

— Devin Doran (@Devodoubled) October 1, 2016
WestJet announced its plans to fly to London-Gatwick airport out of Vancouver, Calgary, Edmonton, Winnipeg, Toronto and St. John's last year.
The airline bought four Boeing 767 jets from Australia's Qantas to support the service, but the fleet has been plagued with mechanical problems ever since.
Part of the problem has been subpar maintenance work performed by a company based in Lake Charles, La. Saretsky admitted in July that he wasn't happy with it.
But Stewart said at the time that it's not unusual for airlines to have issues when they bring new planes into their fleet.
WestJet profits nosedive
Company profits were $36.7 million from April to June, down from $61.6 million a year earlier.
Some of the factors include issues with the London service, but it was also blamed on a downturn in the energy sector.
Also on HuffPost